Casio G-Shock: een niet-Zwitsers icoon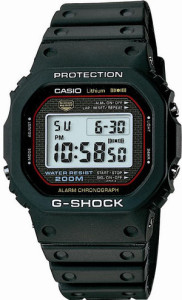 De G-SHOCK begon ooit als de droom van een jonge technicus die een horloge wilde maken dat zelfs niet kapot zou gaan na een valpartij. Dit was allemaal in een tijd dat horloges nog werden gezien als kwetsbare instrumenten.
De bewuste technicus, Kikuo Ibe, was destijds hoofd horlogeontwerp bij CASIO. In 1981 werd een speciaal team met slechts drie leden samengesteld om de droom van Ibe werkelijkheid te maken. Aanvankelijk streefde het team het zogenaamde 'Triple 10'-concept na: bestendigheid tegen een valhoogte van 10 meter, bestendigheid tegen een waterdruk van 10 bar en een batterij die 10 jaar meegaat.
Het bleek een bijna onmogelijke missie te zijn. Zowel fysiek als mentaal uitgeput van het maandenlange harde werk begon het team te vrezen dat ze met het project een doodlopende weg waren ingeslagen.
Precies op dat dode punt werd Ibe's aandacht getrokken door spelende kinderen in een park. Hij realiseerde zich dat wat voor kracht er ook wordt uitgeoefend op een rubberen bal, deze nooit doordringt tot het binnenste van de bal. Dankzij deze observatie begon het team aan de ontwikkeling van een horloge met een holle structuur waarin de module enige bewegingsvrijheid heeft.
Na meer dan 200 prototypes had het team het eindelijk voor elkaar: een schokbestendige structuur. Zo'n twee jaar nadat het team met het project was gestart, kwam de eerste G-SHOCK, de DW5000, in 1983 op markt. Sinds dat moment heeft de G-SHOCK allerlei ontwikkelingen doorgemaakt, maar de basisstructuur is nooit veranderd.
In de eerste jaren bracht Casio een paar nieuwe modellen per jaar op de markt en in 1991 werd de Baby-G geïntroduceerd. Tijdens de jaren 90 nam de populariteit van de G-Shocks enorm toe. In 1998 waren er 19 miljoen exemplaren van dit horloge verkocht en de vraag naar de G-Shock leek dat jaar op zijn hoogtepunt, er werden meer dan 200 nieuwe modellen op de markt gebracht.
G-Shock Milestones
Year Features Model
1983 World's first shock-resistant wristwatch DW-5000C-1A
1985 Square-shaped face with dust/dirt-proof construction DW-5500C-1
1987 Best-selling model and successor to the square-shaped DW-5000 DW-5600C-1
1987 Circular-shaped model DW-5700C-1V
1989 Adopted a combination of analog and digital display AW-500-1E
1990 First hit model in Japan, employing a new face design DW-5900C-1 / DW-6000GJ-1
1993 First Frogman diving model, water resistant to a depth of 200 meters DW-6300-1A
1994 Equipped with EL backlight DW-6600
1994 First model supporting environmental protection "Dolphin & Whale Eco-Research Network" Model
1994 Shock-resistant wristwatch for women (first Baby-G model) DW-520
1996 Pair of G-SHOCK and Baby-G watches (his and hers) Lover's Collection
1996 Full-metal casing with shock-resistant construction MRG-100
1998 Tough Solar G-SHOCK with solar-powered mechanism DW-9300
2000 Wave Ceptor watch with radio-controlled timekeeping GW-100
2002 Solar-powered radio-controlled watch GW-300
2005 5-motor chronograph module with multiple functions GS-1000
This line of watches has expanded considerably since then and now includes atomic clock synchronization and Tough Solar functionality in the latest models. The Cockpit Series G-Shock is the official timekeeper of Nismo Racing. Many newer G-Shocks feature metal (steel or titanium) banding and ornate analogue timekeeping.
Twice a year (Spring/Summer and Fall/Winter collection) the basic models are updated. New limited models are introduced more frequently through the year. As with Swatch watches, G-Shocks have become collectors items. Arguably, the most sought after line is the Frogman. Limited edition Frogmans such as the Brazilian, Men in Yellow, Black Helios and Black Spots are some of the most desirable Frogmans.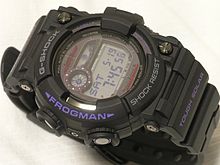 Casio also produces collaboration models, often with popular fashion brands, like A Bathing Ape (Bape), Stussy, Xlarge, KIKS TYO, Nano Universe, Levi's, Lifted Research Group, as well as Coca Cola, Pulp68 Skateshop, Lucky Strike and Marlboro.
G-Shock is popular with mountaineers, firemen, paramedics, police officers, astronauts, film directors (Tony Scott was often pictured wearing a GW-3000B, as is Ron Howard and Francis Ford Coppola) and soldiers. Ex-Special Forces soldier Andy McNab mentions in several of his novels how his fictional character Nick Stone relies on a G-Shock watch. According to Mark Bowden's book Blackhawk Down, the DELTA Operators wore G-Shock watches during the combat events of 3rd & 4th October 1993. Since then, G-Shocks watches have become very popular with Special Forces groups in both American and other NATO nation units, due to their being "battle tested".
Models DW-5600C, DW-5600E, DW-5900, DW-6600, DW-6900 are flight-qualified for NASA space travel.
In 2012, Casio released GB-6900, a Bluetooth-capable model of G-Shock. As of June 2012, it was only available in Japan. Casio claimed the battery life of 2 years on a single CR2032 battery.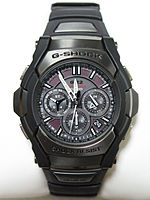 Afb.: Astronaut Thomas Reiter during Expedition 14 wearing G-Shock 5900 on the International Space Station
De Casio G-Shock is een van mijn favoriete horloges. Je kan letterlijk alles doen met het horloge om je pols zonder dat je ooit bang hoeft te zijn dat je over de grens gaat van wat de G-Shock hebben kan. De aantrekkelijkheid zit hem ook in het feit dat hij in volledig contrast staat met je prachtige Rolex of Jaeger-LeCoultre. En daarbij zijn de prijzen vriendelijk wat het bereikbaarder maakt om ze te verzamelen.
In mijn ogen zou iedere horlogeverzamelaar een G-Shock in zijn collectie moeten hebben. De enig overgebleven vraag is of de Zwitsers ooit nog gaan komen met een horloge dat serieus de strijd aan kan gaan met de Casio G-Shock.
Jaap Bakker