Een Rolex Submariner ref 5514: zowel COMEX als militair?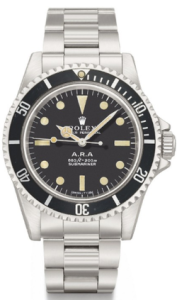 Een paar jaar geleden had veilinghuis Christie's een zeer interessante Rolex te koop. Het was een Submariner ref 5514, een model dat speciaal gemaakt was voor COMEX (Compagnie Maritime d'Expertises). Ref 5514 is nooit op de markt geweest voor gewone klanten.
Het verschil tussen het COMEX horloge en de civiele versie, ref 5513, was het helium ventiel aan de linker zijde van de kast (hetzelfde als het ventiel op de Sea-Dweller). Er zijn slechts 150 exemplaren van de ref 5514 gemaakt.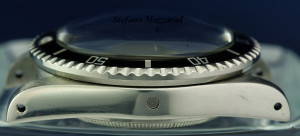 Als dit horloge een ref 5514 voor COMEX was geweest was het al zeer zeldzaam maar dit exemplaar was nog specialer. Het had de militaire kenmerken van de Argentijnse Marine. De afkorting 'A.R.A.' op de wijzerplaat stond voor 'Armada de la Republica Argentina'. Op de achterkant stonden zowel het COMEX als het militaire nummer.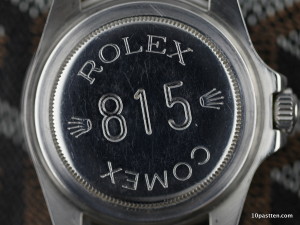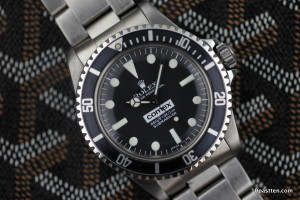 Christie's had zeer interessante informatie over dit horloge, met name over hoe een COMEX Submariner kwam aan de militaire kenmerken van A.R.A.
Dit is de door hen opgestelde tekst:
Lot Description
Rolex. An extremely rare stainless steel automatic wristwatch with sweep centre seconds, hack feature, bracelet, gas escape valve and box, made for COMEX and sold to the Argentine Navy
Signed Rolex, Oyster Perpetual, A.R.A, 660ft=200m, Submariner, COMEX issue no. 449, A.R.A. military issue no. 68507-Ci, ref. 5514, case no. 4'155'925, manufactured in 1977
Cal. 1520 nickel-finished lever movement, 26 jewels, black matte dial marked A.R.A for Armada de la República Argentina, luminous dot, baton and dagger numerals, luminous mercedes hands, luminous sweep centre seconds, tonneau-shaped water-resistant-type case, gas escape valve, revolving black bezel calibrated for 60 units, screw down crown, screw back engraved ROLEX COMEX 449 and military issue number 68507-Ci, stainless steel Rolex Oyster bracelet, case, dial and movement signed
40 mm. diam.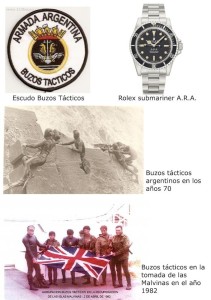 Lot Notes
With Rolex contemporary fitted green presentation box and outer packaging.
The present watch is an exceptionally rare variant of the celebrated reference 5514 made for COMEX, featuring the abbreviation "A.R.A" for "Armada de la República Argentina" (Navy of the Argentine Republic) on the dial and ARA military issue number 68507-Ci engraved on the case back. Until today unknown to the market and to literature, it is believed to be the only reference 5514 with these characteristics to appear at auction.
Reference 5514 is amongst the rarest of all Submariner models, according to literature around 150 examples were made and sold exclusively to COMEX. The model was never available to the public and differs from the regular Submariner by a variety of features, most notably the helium escape valve on the right side of the case and the serial number repeated inside the case back, a characteristic reserved to COMEX and to military watches.
According to research, collaboration between COMEX and ARA dates back to the mid 1970s when Argentina's state-owned oil company Yacimientos Petrolíferos Fiscales or YPF started the exploration of offshore oil fields.
Prior to the purchase of a semi-submersible platform essential for such project, YPF was looking for scuba divers able to operate in depths of 180 meters. Simultaneously the Argentine Navy was also investigating the possibility of forming divers for deep-sea dives and dives with different gas mixtures, leading to an arrangement with YPF who took a group of Navy divers under contract. Research revealed that between 17 and 30 October 1977, year of manufacture of the present watch, 16 Argentine divers were trained at COMEX Hyperbaric Experimental Centre in Marseille for saturation dives to a depth of 200 meters, using Heliox gas.
It can safely be assumed that COMEX commissioned Rolex with the supply of their reference 5514 watches for the Argentine divers, requesting the inscription "A.R.A" above the depth indication on the dial instead of the commonly found "COMEX". A wristwatch built to withstand water pressure, in the present case to a depth of 200 meters (660 feet), is a vital accessory for a deep sea diver and essential for calculating the time of dive and controlling the rate of ascent and descent.
The Argentine military issue numbers were most likely engraved to the case backs upon the return of the divers to their home country.
Formerly the property of the son of one of these divers, the present watch stands out by its unmolested, original overall condition, including the contemporary Rolex Oyster bracelet reference 93150, the correct version for reference 5514.
Een korte geschiedenis van COMEX
The Compagnie Maritime d'Expertises (COMEX) was founded in November 1961 by Henri Germain Delauze who has been in charge ever since. The company specializes in engineering and deep diving operations.
It's main line of business includes hyperbaric testing facilities, oceanographical research ships (Minibex and Janus) and a testing pool.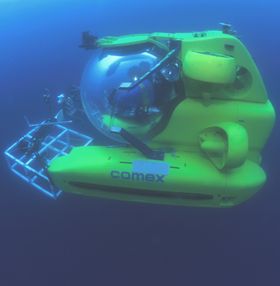 COMEX was a pioneer in the field of very deep saturation diving. They experimented with the use of hydrogen in the diver's breathing gas. They started using Heliox and Hydreliox gas mixtures with Hydra I in 1968. This testing finally led to COMEX diver Theo Mavrostomos, with Hydra X in 1992, making a record simulated dive of 701 m in an on shore hyperbaric chamber.
The use of hydrogen was partly driven by the fact that it could help overcome the symptoms of high pressure nervous syndrome (HPNS). But another factor was that COMEX in 1987 was part of a Canadian-French consortium that tried to built the world's first commercial nuclear mini-submarine. This submarine, Saga, was a prototype intended to be used for oil exploration and development under the Arctic ice. Saga was built on a hull originally constructed by Jacques-Yves Cousteau but not completed due to lack of funds. Saga would have a complete saturation diving system on board. The nuclear power plant would be able to produce large volumes of hydrogen and oxygen through the Electrolysis of water. This would provide plentiful amounts of breathing gas for autonomous diving operations under the Arctic ice cap.
The project suffered tax problems in Canada which caused political repercussions between the French and Canadian governments. Saga did undergo successful sea trials in 1991 but without the intended nuclear power plant. Underwater propulsion was provided by a Stirling engine and surface propulsion by a diesel engine. The project was abandoned and Saga was laid up at Marseille.
Today COMEX is still a famous company that is at the forefront of everything having to do with diving.
The following is a list of their customers:
Defence
Offshore industry
Engineering industry
University hospitals and other hospitals
Scientific research (physiology)
Search, survey, salvage and recovery operations on wrecks
Media (photography and motion pictures)
Underwater tourism
Maritime expertise
Underwater archaeology
Hydrography
Salvage
Insurance
Een korte geschiedenis van A.R.A.

De Argentijnse marine werd volgend op de meirevolutie in 1810 in de toenmalige Spaanse kolonie opgericht. Vanaf 1814 ging de marine een belangrijke rol spelen in de Argentijnse Onafhankelijkheidsoorlog die Argentinië in 1918 losmaakte van Spanje. Gedurende de 19e eeuw had Buenos Aires nog een beperkte geschiedenis op het gebied van de marine en daardoor waren de meeste mensen binnen de marine van buitenlandse afkomst. Admiraal William Brown die uit Ierland kwam heeft hierbij een belangrijke rol gespeeld. Op het einde van de 19de eeuw werd ze gemoderniseerd.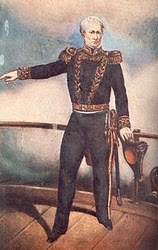 Afb.: Admiraal William Brown
Gedurende de beide wereldoorlogen bleef Argentinië neutraal. In de naoorlogse periode kwamen de maritieme luchtvaart en het korps mariniers onder direct bevel van de marine. Argentinië en Brazilië werden de enige Zuid-Amerikaanse landen met twee vliegdekschepen in dienst.
In de jaren 1960 en -70 was de marine betrokken bij incidenten met Russische vissersboten die Argentiniës territoriale wateren betraden. In 1966 werd zo'n boot beschoten nadat die escorte naar Mar del Plata weigerde.
De marine was ook betrokken bij alle militaire staatsgrepen die in de 20ste eeuw plaatsgrepen in Argentinië. Ze speelde ook een sleutelrol bij de bezetting van de Falklandeilanden in 1982, maar waagde zich niet buiten de kust gedurende de daaropvolgende Falklandoorlog met het Verenigd Koninkrijk nadat die een schip, de kruiser ARA General Belgrano, had getorpedeerd. De maritieme luchtmacht speelde wel een grote rol tijdens het conflict door verschillende Britse schepen tot zinken te brengen. Ook vocht het Argentijnse korps mariniers mee tegen de Britten op de Falklandeilanden. In 1991 nam de Argentijnse marine met verschillende schepen deel aan de Golfoorlog.
Na deze – verloren – oorlog werden alle nog uit de Tweede Wereldoorlog daterende torpedobootjagers uit vaart genomen en vervangen door de nieuwe Duitse MEKO-klassen. Ook beoogde men de aanschaf van zes nieuwe Duitse onderzeeërs, hoewel hier om economische redenen slechts twee van gebouwd werden.
In 1997 boette de marine in aan capaciteit toen haar enige amfibisch landingsschip uit dienst werd genomen. In 2000 volgde ook één van de vliegdekschepen dat eveneens niet werd vervangen. Argentijnse marinejachtvliegtuigen oefenen geregeld op Braziliaanse en Amerikaanse vliegdekschepen.
Jaap Bakker