De CEO van Rolex: Gian Riccardo Marini
Op 3 mei 2011 werd de Italiaan Gian Riccardo Marini benoemd tot wereldwijd CEO van Rolex. Het voormalige hoofd van Rolex Italië (vanaf 2000) verving daarbij het reeds lange tijd zittende hoofd Bruno Meier.
Rolex oprichter Hans Wilsdorf besloot in 1932 om zijn horloges in Italië te gaan distribueren via de Italiaanse dealer Franco Locatelli. In 1947 besloot Locatelli om samen met Ronchi, de eerste Rolex dealer in Milaan, en Renato Marini te starten met ROMALO.
De zonen van Renato Marini, Gian Riccardo en Giancarlo, raakten in de 70er jaren betrokken bij het bedrijf. Gian Riccardo werd al snel de commerciële directeur van de onderneming. In 1980 startte ROMALO met zijn eerste service centrum wat zich al snel ontwikkelde tot een belangrijk internationaal instituut voor het trainen van Rolex dealers. Pas eind 1993 werd ROMALO een volwaardig onderdeel van Rolex Italië SpA.
Gian Riccardo Marini is verantwoordelijk voor de belangrijke merkassociaties met zeilen en golfen en het hierbij creëren van limited editions. Als Marini het heeft over het unieke van een Rolex horloge omschrijft hij dit als: "object of passion and luxury, but also an important personal investment". De hele marketing heeft ervoor gezorgd dat Rolex een van de meest solide luxemerken ter wereld is.
Nadat Marini voor zijn werk in aanraking was gekomen met zeilen bleek deze sport voor hem liefde op het eerste gezicht te zijn. In een interview in Yacht Online werd hem gevraagd of hij kon verklaren waarom luxemerken in het algemeen en horlogemerken in het bijzonder in al maar toenemende mate de zeilsport willen sponsoren.
Marini gaf het volgende antwoord:
"I can't really say why any other company is interested in the sector. But what is certain is that we were at the forefront in that regard: Rolex was the first watch brand in the world to launch an advertising campaign built around the sea and that was in 1926. Our watches were also the first official timepieces for the America's Cup. The power of teamwork, cutting-edge technologies, toughness, resistance, man as protagonist: they're all the values our company recognised in sailing and that's why we chose it as our preferred sponsorship sport. Now, of course, everyone has gotten in on the act with testimonials, etc. but maybe that's just because there's very little spirit of initiative when it comes to looking for new avenues of communication."
De laatste grote deal die Marini heeft afgesloten is een 10-jarig sponsorcontract ter waarde van $ 350 miljoen om de wereldwijde partner en officiële tijdwaarnemer te zijn van de Formule 1. De deal is in ieder geval gesloten om te voorkomen dat concurrent Omega de leidende positie zou overnemen. Volgens een rapport van de Digital Luxury Group DLG) dat in april 2013 verscheen is het gat tussen Omega en Rolex de afgelopen jaren steeds kleiner geworden, van 8,4% in 2009 tot 2% in 2012.
Op onderstaande foto staat Marini met Bernie Ecclestone, de baas van de F1.

Naar aanleiding van het sponsorcontact met de F1 heeft Rolex een zeer interessante, strikt gelimiteerde Rolex Daytona uitgebracht. De volledige naam van het horloge is:
Rolex Daytona FORMULA 1 Limited Edition BREVET+ PVD DLC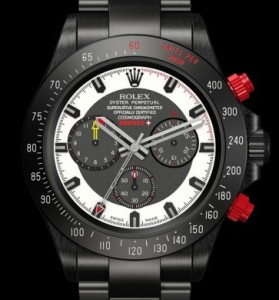 Brevet is een Zwitsers bedrijf dat op hun website aangeeft het volgende te doen:
'About BREVET +
BREVETPLUS specialises in customising and re-designing High End wristwatches at our customers request. BREVETPLUS is proud to be the first company to introduce ADLC ( AMPHOROUS DIAMOND LASER LIKE COATING ), DLC and PVD Coatings.
BREVETPLUS is an independent company providing customisation to original brands. We are not affiliated to any watch manufacturer and operate independently and in an unofficial capacity. BREVET + primarily focuses on achieving unique designs and concepts through its research and development. Our aim is to deliver an irreplaceable watch to our client.
Brevetplus are to watches what Zagato is to Cars.'
De belangrijkste gegevens over de Daytona BREVET+ zijn:
BLACK ROLEX DAYTONA Formula 1 Limited Edition
BREVET + Rolex FORMULA 1 DAYTONA STAINLESS STEEL & DLC
BREVET + Limited Edition – Customised Rolex Daytona Formula 1 Limited Edition
BREVETPLUS® BREVET PLUS®
ROLEX BREVET + OFFERS WORLD'S FIRST ADLC COATED ROLEX.
Launch Date: March 2013
THIS SPECIAL CUSTOMISED ROLEX IS AVAILABLE IN BOTH STAINLESS STEEL AND ALL BLACK DLC COATING.
BLACK AMPHOROUS Diamond Like Carbon matte coating
44 jewels movement
Sapphire crystal
Individual case back engraved (xx-13)
Water proof 100m/300ft
Comes with fitted box
2 years in house BREVET+ warranty for a mechanical failure.
LIMITED RUN of 13 Pieces ONLY
Price: 23.141 euro
This watch is also available in stainless steel at: £14750.
Watches are supplied with or without BREVETPLUS INSCRIPTION on the dials.
Jaap Bakker