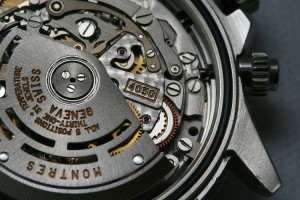 After having trusted the hand winding Valjoux caliber 72, and some variations of this caliber (read the article: 'Valjoux 72: the start of the Daytona'), for a long time Rolex in 1987 decided to go and use a Zenith caliber to make the Daytona tick. Zenith had started the production of their El Primero caliber 400 in 1969 and, after being off the market for several years, from 1986 it was available again. The most interesting feature of the Zenith caliber 400 was that it oscillated with a frequency of 36.000 beats per our, where 18.000, 21.600 or 28.800 bph were common. This higher frequency made the watch more accurate.
The caliber 400 made by Zenith was the only chronograph watch with automatic winding that complied with the very high quality standard that Rolex employed. However, it was not that Zenith sent Rolex the calibers 400 and that they placed them untouched into the case. Far from that, Rolex made several adjustments to the 400 as listed below:
- A new escapement with a much bigger, free moving balance and a balance coil with Breguet overcoil; a Rolex preferred and more expensive configuration that leads to a higher accuracy
- The oscillation frequency was lowered from 36.000 to 28.800 bph; this to lower the need for regular maintenance.
- The date function was removed from the watch
With all the adjustments made Rolex had modulated circa 80% of the original Zenith caliber. The new Rolex caliber 4030 was born.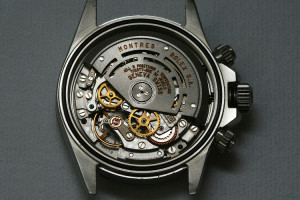 The Daytona with caliber 4030 had reference number 16520. Ref. 16520 differed from earlier versions of the Daytona in having sapphire glass and a couple of esthetic changes. Influenced by other Rolex sports watches from that era, for instance the Submariner, the diameter of the case had grown from 37 to 40 mm. The surface of the dials were now lacquered and shiny versus matte (black) or metallic (silver). The dial had metal hour indexes, laid in with radiant material. The sub dials had a thin scale with an opposite colour and a metal bezel.
Rolex made the ref 16520 from 1987 until 2000. In 2000 they started with their first chronograph driven by a manufacture watch.
As can be seen in the list below the era 1987-2000 can be divided into six periods in which slide changes were made to the Daytona. The most interesting are the following three:
- 1987(late)-1988: 'floating' Cosmograph, 'Cosmograph' stands alone in the middle of the dial
- 1989-1990(early): 4 lines, 'officially certified' is missing on the dial
- 1990(early)-1993(early): 'inverted' 6, the '6' on the sub dial at 6 o'clock is inverted and looks like a '9'
The complete list of the production of the Rolex Daytona ref 16520 in the period 1987-2000: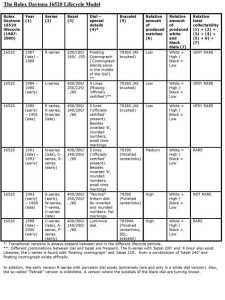 Pic.: 1988
Pic.: 1989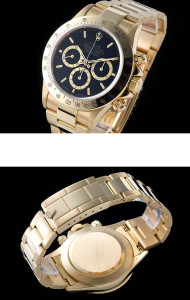 Pic.: 1991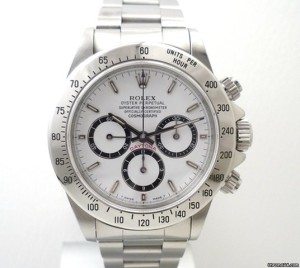 Pic.: 1992
Pic.: 1995
Pic.: 1999
Jaap Bakker