Suitable transport for your Patek Philippe
In 1962 Patek Philippe introduced the ref. 3448, the first automatic Perpetual Calender with Moon Phases. Ref. 3448 was fabricated between 1962 and 1985, with a total production of only 586 watches.
Most of them were in yellow gold but there is also a handful in white gold. Very few are in rose gold and 2 or 3 are made of platinum.
Half way the 1950s Ferrari built less than 100 chassis per year. From 1955 until 1959 production quadrupeled and in 1962 it doubled again which meant the manufacturing of 493 chassis.
Most of these cars were the in series produced 250 GT Coupe, designed by Pininfarina in 1958, and it's successor, the 250 GT/E.
Ferrari then reached a broad market of well-to-do customers but, apart from a couple of 'specials', in terms of pure performance as well as of visible distinction they didn't have enough to offer to the most demanding part of their customers.
There was a small but very lucrative market of industrials, royalty and stars for whom money was not an issue and who only wanted the best. For them Ferrari developed the 400 Superamerica, designed by Pininfarina.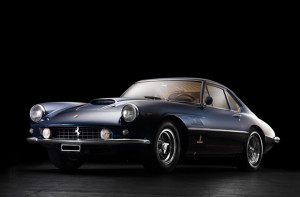 A new engine was designed, Tipo 163, a so called 'short block' V12 with a 4 litre capacity (hence the new type indication 400, in the past the indication meant the capacity of one cilinder) and a performance of at least 340 bhp.
For over ten years Ferrari used this block to power the V12 Ferrari's. A modified version of the Tipo 163 was used in the Ferrari 330 TRI/LM with which Phil Hill and Olivier Gendebien became overall winner of the 1962 24 Hours of Le Mans.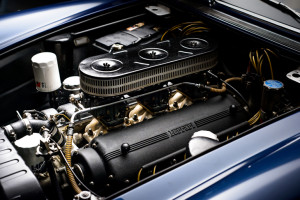 Total production number of the Ferrari 400 Superamerica Series I Coupe Aerodinamico, introduced at the 1962 Geneva Motor Show, eventually was about 13. The only watch of that era that really matched with this fabulous car was the Patek Philippe ref. 3448.
Let us see what 2014 has to offer.
At Baselworld 2014 Patek Philippe showed their ref. 5960/1A-001 to the public for the first time. The most interesting feature of this watch with an Annual Calender is that it is made of stainless steel. Normally Patek Philippe only manufactures complicated watches with the use of precious metals. Until now SS was only used for the Nautilus and the Aquanaut.
Press Release
Description Card
Ferrari has just made the California T public. Just like the ref. 5960/1A-001 it has a very striking feature.
It's V8 engine is equipped with 2 turbo's and that is a technical breakthrough for Ferrari (the last Ferrari with a turbo engine was the 1989 F40). This engine not only produces more than enough power, 560 bhp, but also has lower fuel consumption. This development comes straight from Formula 1 where, after a long pause, cars are running with turbo engines again in 2014.
The Patek Philippe ref. 5960/1A-001 and the Ferrari California T, a combination for the ultimate joy.
Jaap Bakker
June 9th
6:54