The Frenchman Jacques Brauer fabricates breathtaking models of cars in scale 1/43. By many he is seen as the very best in this line of work. The following pictures of his 1962 Ferrari 250 GTO show you why:
Since young age Brauer has a passion for painting and cars.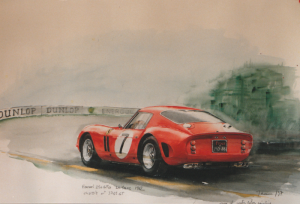 Watercolour painting, 1962 Ferrari 250 GTO, Jacques Brauer, 50cm x 65cm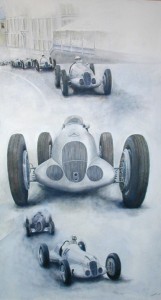 Oil on canvas, Mercedes in Monaco 1937, Jacques Brauer, 184cm x 148cm
Brauer was educated at the School of Fine Arts in Reims and developed himself into an artist with racing cars as his favourite theme. He painted and made drawings but he felt limited in his creative options because he missed a third dimension to express himself. Realizing this, Brauer, at the age of 27, switched to building model cars.
As part of this article I have had a Q&A with Jacques Brauer about his background and his work. Next are the questions and answers by Brauer:
- What role did cars and drawing/painting play in your youth? Do you come from a creative family or were you an exception?
- I read that you missed a third dimension in drawing/painting. Did you immediately know that you wanted to build miniature cars or were there other options as well?
- Have you ever considered building watches like your friend Laurent Ferrier?
- Did you teach yourself what materials and techniques you need to build your cars or did you also get some sort of training?
- What is the most exceptional miniature car that you have ever built? Do you have a favourite model?
- What is your favourite 1/1 car?
- What kind of work would you be doing if you weren't building model cars?
- I have been concern by race cars as long as can remember… very young boy, I receive a special price
for race cars drawings when 5 years old…
I am from a musician family ( mother) and industry( father). Nothing especially creativ but truly inspired
with life and things aound.
-I have started with fine art painting in the early 70′s, essentially race cars and old sports cars subject.
I decide to explore "little cars" at the end of the 70′s, starting with a Ferrari GTO, based on a kit ( metal)
but the model as proposed was definitely not enought for me, then, I start to open doors and other
parts and have to study an engine and engine bay details.
From the beginning I have been facinated by "little cars" the following story is just "how to do it as close
as possible to the real thing" including materials, like wood, leather, textile and so on.
-I have study technical approach and tools and materials myself… no school… .
My favorite car… a lot, but the Aston DB2/4 mk3 is probably the one ( vantage spec.)
- I never expect doing another job, and will do it as long as possible! ( all my life time).
Hope the reply is right for you!
Kind regards,
Jacques
PS watch making is a specific job who need to learn the right skill, too difficult for me!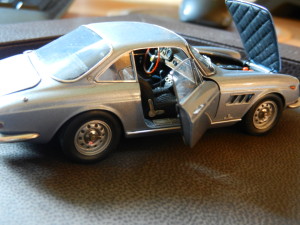 1967 Ferrari 330 GTC
A good illustration of the way Brauer works is the production process of a wooden Nardi steering wheel for his models.
To create a steering wheel, he needs a piece of pear wood and a self-made tool (an old file that he has sharpened to the utmost). He then uses a special glue which is applied by infiltration in order to saturate the wooden fibres so as to avoid the piece of wood breaking while he is working with it. He cuts out a small circle with his file and then applies himself to ensuring that it is perfectly round using sandpaper. For the inside of the steering wheel, he cuts out a piece of nickel silver which he then sticks to the centre of the wooden circle.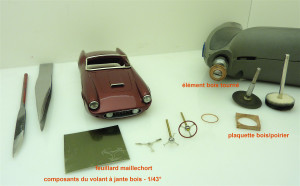 Parts for a wooden steering wheel
For logos and the little letters composing the brand names, he uses photo-cutouts which he systematically re-polishes using a felt buffing wheel. This requires very careful, thorough work as he is dealing with elements that are no more than around 0.15mm thick.
The artist has successfully reproduced all the elements of the real car to a scale of 1:43. The bonnet, doors and boot open, and the engine is a perfect reproduction in every respect. Each mechanical piece is a true replica complete with air filters, spark plugs, and oil filter cartridges. The structure is made of brass wires assembled with a tin soldering iron. There is a technical link with watchmaking with regard to the production of functional suspension elements, the steering gear (steering is driven from the wheel). The door locks involve the same approach to extreme miniaturisation!
Leather is used throughout the interior, in the original colours. The dashboard features all the dials and the steering wheel features a varnished wooden rim. Every single shape and proportion is scrupulously respected.
"My principal concern can be summed up as follows: respect for spirit and form."
One of the interesting things of Brauer's models is that certain aspects of the miniature have clear, technical links to making watches.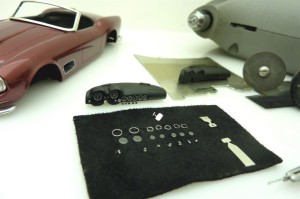 These links are clearly found in for instance the production of functional parts of the suspension, the steering system (the steering wheel turns the front wheels) and the complex construction of the door locks.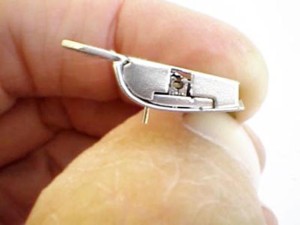 Parts of a door lock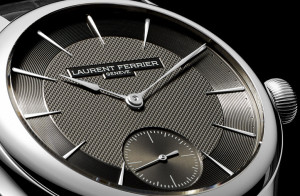 Laurent Ferrier Galet Classic (tourbillon)
Watch manufacturer Laurent Ferrier and Jacques Brauer met at the beginning of the 1980s at a time when both were involved in the world of motor racing. Laurent has unremittingly admired and kept up with Jacques Brauer's work ever since. For Laurent, the work of a sculptor-miniaturist is closely akin to his own, with regard to design as well as the process of creating a given piece. They share the same approach to the new project, for which Jacques Brauer creates the prototypes – sometimes in wax – in exactly the same way as Laurent Ferrier does when making his models. "That is in fact the aspect that is most like my profession. It is a kind of horology, more artistic but in many way similar. It's another form of gentle madness." Laurent Ferrier Laurent Ferrier describes J. Brauer's work as exceptional.
He is fortunate to be in direct contact with collectors who ask him for models of dream cars. He quotes them: "I want the very best you can do." It is the same concern that leads collectors to gravitate towards Laurent Ferrier pieces. Like Jacques Brauer, Laurent Ferrier tailors his work to the needs of his client, notably through the creation of one-of-a-kind models.
His work is completely tailored to his clients' needs. Certain collectors want replicas of their vintage cars. He also says with a degree of amusement that he sometimes has to repair these models because some of his collectors play with them! The lead time for making a piece varies between 8 and 12 months. He estimates that his work involves between 300 and 700 hours per model depending on the level of detail required. It takes him hundreds of hours of work just to develop the first prototypes. Every stage of the production process is photographed in order to share the project's progress with his client as well as to justify certain elements, which, once the piece is finished, will no longer be visible from the outside. In Laurent Ferrier's opinion, it takes passion and talent to achieve results like these.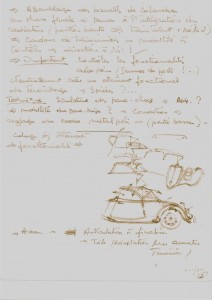 Notes and drawings prototype
Because pictures say more than a 1000 words some more to show the pieces of art that genius Jacques Brauer produces: