Magnum P.I.: ex-Navy Seal with a Rolex and a Ferrari
Thomas Sullivan Magnum IV (played by actor Tom Selleck) was the main character in the popular TV serial Magnum, P.I. in the eighties.
He was born between 1944 and 1947, most likely on the 8th of August 1944. His parents were Katherine and Thomas Sullivan Magnum III and both his father and grandfather were naval officers. He was born in Detroit, but raised near Tidewater, Virginia.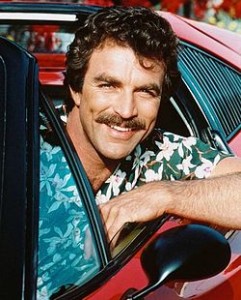 Magnum was in the US Navy forces for over ten years, serving in Navy Seals as well as Naval Intelligence. He fought in the Vietnam war and was made a prisoner of war. In 1979, a disillusioned man, he left the Navy, but in the final Magnum P.I. episode he decided to re-enter active naval service as Commander (O-5). He may have served in the Golf War and retired in the rank of Captain (O-6) in the late nineties after a 30-year service period.
After he left the Navy, Magnum ended up in Hawaii where he hung around as a private detective, broke, being uncertain about getting paid jobs. Nevertheless, he was able to have a comfortable life which he owed to the well-known actor Robin Masters who put him up in the guest rooms of his country estate 'Robin's Nest'. Moreover, Magnum was allowed to make unlimited use of his Ferrari 308 GTS, as long as he could safeguard the security on the estate.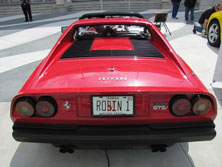 The clothing Magnum liked most consisted of khaki short or jeans (Navy-issue trunks or Levis), an Aloha shirt and Sperry boat shoes or Puma Easy Rider sneakers, usually without socks. He often wore timeworn baseball caps of his favourite team, the Detroit Tigers.
Magnum led the life any man dreams of: a Rolex round his wrist, a Ferrari at his disposal, working when you feel like it, a never empty fridge filled with beer, beautiful women and adventures with friends.
During the first season of the serial it became clear that Magnum was a fan of the Styx, Jefferson Starship and Blondie bands. But he reluctantly admitted having recordings of Bach and Beethoven as well, particularly to impress his pal Higgins.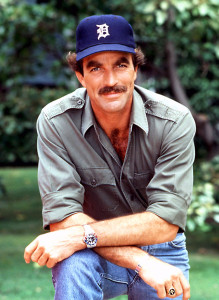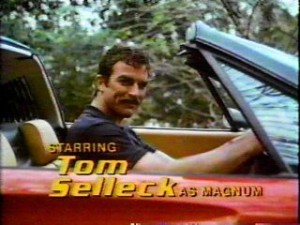 Magnum's favourite drink used to be Old Düsseldorf beer in long-necked bottles, but it did not bother him at all to pinch a bottle of wine from Robin Masters's wine cellar; but only when he was absolutely sure that Higgings was not around.
He was characterized by a collection of personal stuff, souvenirs collected over the years such as baseball bats and caps, a gorilla mask and a rubber chicken. He also had a VHS tape of 'Stalag 17′, his favourite movie.
His personal weapon, which he bore with some regret, was a Colt Government Model .45 ACP hand weapon, Colt's commercial version of the standard military issue M1911A1 (In the serial Tom Selleck did not use a .45, because he could not rely on it when firing dummies. It was substituted by a 9 mm dummy Parabellum, a weapon that strongly resembles the 45).
One wall in Robin's Nest guest rooms was decorated with a real Gauguin and Magnum frequently negotiated with Higgins about using expensive cameras and the tennis courts on the estate. And to crown it all, Magnum was allowed to drive Robin Masters' Ferrari 308 GTS unlimitedly.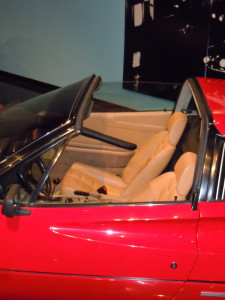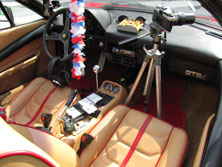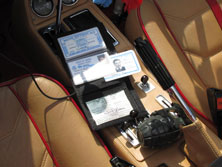 Pic.: the camera used by Magnum in the Ferrari and the contents of his wallet
In the serial three different Ferrari types were used:
- Season 1: 308 GTS
- Season 2-6: 308 GTSi
- Season 7-8: 308 GTSi QV
Below an overview of the technical specifications of the various 308 types:
1978 308 GTS
Year(s) Horsepower
1977-1980 240 HP
Weight Torque
3,160 lbs. 181 lbs. @ 5000 RPM
Top Speed 0-60
151 MPH 7.0 seconds
1980 308 GTSi
Year(s) Horsepower
1980-1982 205 HP
Weight Torque
3,225 lbs. 181 lbs. @ 5000 RPM
Top Speed 0-60
146 MPH 7.3 seconds
1984 308 GTSi QV
Year(s) Horsepower
1982-1985 230 HP
Weight Torque
3,230 lbs. 188 lbs. @ 5000 RPM
Top Speed 0-60
155 MPH 6.1 seconds
His most precious possession was the Rolex 'Pepsi' GMT-Master that had belonged to his deceased father. Magnum's father was a Navy pilot who died in the Korean War when Magnum was only five years old.


Thanks to Egbert Bakker
Jaap Bakker
August 12th
13:00