The Calligraph Duneshore: a microbrand watch that stands out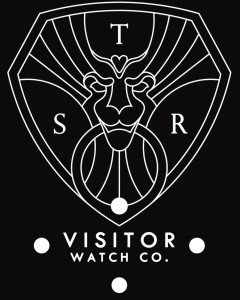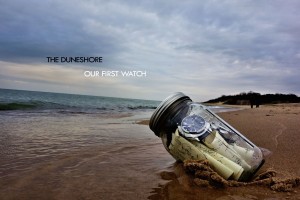 Some time ago by pure coincidence I came across an article about Visitor Watch Co., a new American microbrand. It's founder, Phil Rodenbeck, is an engineer who used to work in the automotive and gasturbine industries. In 2013 he decided that he wanted to earn his money with something more creative and started Visitor Watch Co.
This interesting background story and a picture of the watch sent me right to the website of Visitor. Two things happened then: first, their site is very professional and beautiful and second, surrounding ads opened a whole new world of microbrands for me. Compared to other microbrands the Visitor Calligraph Duneshore really stands out in the crowd. The case is beautiful and highly original as it's inspired by sand dunes. The driving force behind the watch is a Miyota 9015, not just taken from the shelf but with a subtle enginered rotor. And the story goes on: it has a sandwich dial with small holes for the minutes and even the date is treated with Luminova. Finally it's price, 650 US Dollars, makes the Calligraph Duneshore a really amazing watch.
The following article is written by Phil Rodenbeck, founder and CEO Visitor Watch Co.:
Earlier this year, new American microbrand, Visitor Watch Co., debuted their first wristwatch, the Calligraph Duneshore. If you pay close attention to the ever-growing microbrand segment, you may already be managing your expectations on what's to follow. No doubt this must be another minimalist, quartz-driven piece, or some cheap derivation of a popular Rolex/Panerai/Omega with no originality of its own, right? Well, I will forgive your jadedness (as many such pieces do exist) but in this case, you'd be wrong. The Duneshore is as original as they come.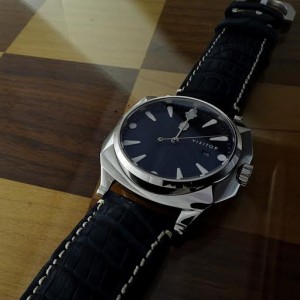 Inspired by sand dunes, the case of the Duneshore is really like nothing else. It looks a little bit sculptural, organic, beautiful and brutal all at once. The draping sides of the case are abruptly faceted into a cushion shape. In the center, a circular bezel emerges, housing the unique dial and hands. The lugs fall away from the case, coming to a rolled end which is also pierced for easy strap changes.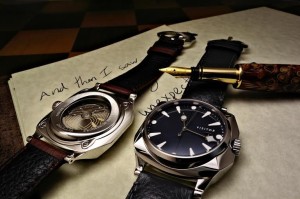 Turning the watch over, you'll find a curved caseback, complete with a flush-mounted exhibition crystal. For those among you who appreciate machining, it's certainly worth noting how the caseback achieves a sweeping, surface transition both with the midcase and the exhibition crystal. Even in watches costing several times this amount, you're far more likely to see planar transitions between these components. Not that it's bad to have a more simplistic structure; rather, it's reflective of the 'no compromises' approach that was taken with the Duneshore's design. It's also reflective of the incredible value this piece represents. For 650 USD, I'm not sure there's a more exquisite case available.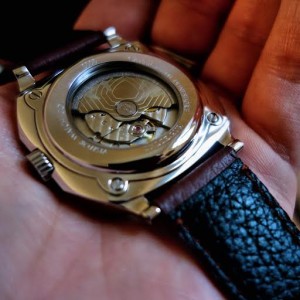 Compromise certainly was not made with the dial, either, as one look at the perforated minutes index should confirm. Yes, that's right, this is actually a 2-piece sandwich-dial, though the only element which makes use of this construction are the minute marks. These could have been easily printed on a 1-piece dial and looked just fine. For the price, I wouldn't have complained. But done in a perforated style as they are adds to the premium feel.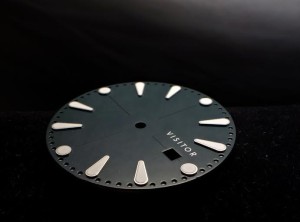 Polished and lumed hour markers are further applied atop the sandwich dial. Luminant has also been generously applied, showing up on the hands, hours, minutes, dial signature, and date. The lumed date is a particularly nice touch and helps differentiate the Duneshore from the horde of other microbrands using Miyota 9015s. It's a common movement, but I don't know of anyone else who goes to the trouble of fitting a custom rotor and a custom black date disk with lumed numerals. Visitor has taken great care with the fine details of their first watch.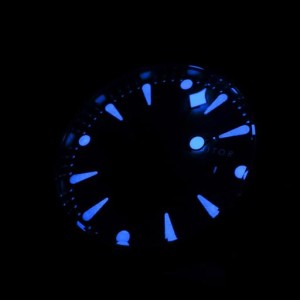 The Duneshore is launching in three color variations – Beach, Blue Slate, and Forest Ore – each of which can be ordered with a variety of straps. If you'd like one for yourself, head over to www.visitorwatchco.com and pre-order through their web store. Granted, you are going to have to wait a bit for the estimated August delivery, but for a watch this different I think it is well worth the extra anticipation. Visitor is only making 300 Duneshores in their initial production run, most of which have been spoken for. It is unclear how readily available these will be after the first run is sold out. Many microbrands engage in this sort of small-batch production and it often seems like a year or two passes between production runs. Bottom line: the Duneshore is a wonderfully unique and beautiful piece and if you find yourself fond of it, I wouldn't wait too long to put in an order.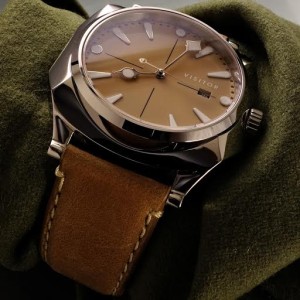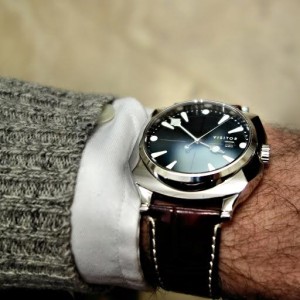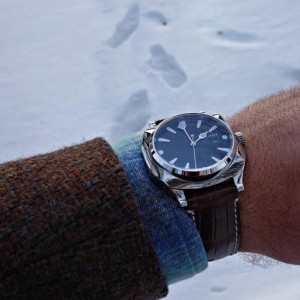 Jaap Bakker
January 20th
13:32