The 'Red Baron' and his Fokker Dr.I: inspiration for Zenith
When Manfred von Richthofen, nick-named the 'Red Baron', was shot down and killed on April 21 1918 near Amiens he officially had 80 victories in air combat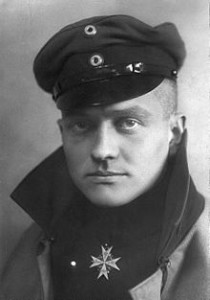 In this portrait the Red Baron is wearing the 'Pour le Merite', the 'Blue Max', the highest Pruisian military decoration
Although the Red Baron gained his victories in several airplanes it is the Fokker Dr.I that is most associated with this air hero.
Zenith has been involved in flying for a long time. At the beginning of the 20th century they manufactured the so-called 'montres d'aeronef' or 'onboard watches'. In the picture below is an example from 1938.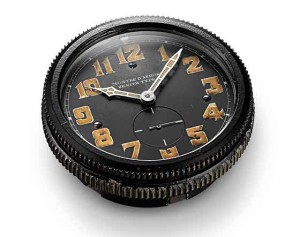 At Baselworld 2013 Zenith introduced the Zenith Pilot Montre d'Aeronef Type 20 GMT Red Baron, in a limited edition of 500 pieces.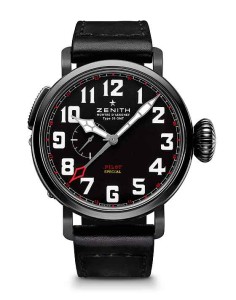 But, before we turn to the Zenith, let's take a closer look at who Manfred von Richthofen was and the role of Anthony Fokker in this whole story.
Manfred Albrecht Freiherr von Richthofen was born in Kleinburg on May 2 1892 in a aristocratic Pruisian family. His military career started in the cavalery but soon his regiment had no real use anymore and only tasks far behind the front remained. Von Richthofen became disappointed and bored because he wanted to see action. He applied for 'Die Fliegertruppen des Deutschen Kaiserreiches' (later called the 'Luftstreitkrafte') and in his application among other things he wrote: "I have not gone to war in order to collect cheese and eggs, but for another purpose." Despite this rather unmilitary approach Von Richthofen was offered a job, much to his surprise, and he started in the airforce at the end of May 1915.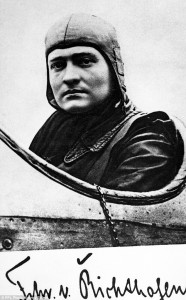 The Red Baron in 1916 in an Albatros
As it often is with people who turn out to be a genius, they are slow starters and Von Richthofen's career as a pilot was no different from this. He even seemed to be a below average pilot: he struggled with the control over his plane and he even crashed on his first solo flight. But the following quote by Von Richthofen showed that he had what it takes: "I had been told the name of the place to which we were to fly and I was to direct the pilot. At first we flew straight ahead, then the pilot turned to the right, then left. I had lost all sense of direction over our own aerodrome!…I didn't care a bit where I was, and when the pilot thought it was time to go down, I was disappointed. Already I was counting down the hours to the time we could start again…"
In August 1916 Oswald Boelcke selected Von Richthofen as one of the first pilots for a new fighter unit named Jagdstaffel 2 or Jasta 2. The Red Baron won his first air combat with Jasta 2 on September 17 1916 over Cambrai in France. Although the Red Baron flew several types of aircraft, among them several models of the Albatros and the Halberstadt D.II, the airplane he is most associated with is the Fokker Dr.I Dreidecker.
Anton Herman Gerard ´Anthony´Fokker was born on April 6 1890 in Kediri in the former Dutch-Indies. His father had a coffee plantation but when Anthony was 4 years old the family moved to Haarlem in the Netherlands to give the children, Toos and Anthony, a Dutch upbringing. Anthony was not what you would call a driven student, he didn't finish his high school, but he had always been very interested in technique and enjoyed building things like model trains, steam wagons and model airplane.
Fokker's first serious interest in flying was feeded by the show flights by Wilbur Wright in the summer and autumn 1908 in France. In 1910 his father sent the then 20 year old Fokker to Germany to be trained as a car mechanic at the Bingen Technical School but Fokker made a quick switch to the air division. In the same year he built his first airplane called 'de Spin' (the spider). Fokker got his flying license in the second Spin and with the third version he became world famous in Holland by flying around the clocktower of the Sint-Bavokerk in Haarlem on August 31 1911.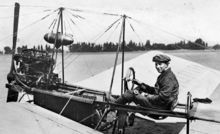 Anthony Fokker in the first version of 'de Spin'
In 1912 Fokker moved to Johannisthal near Berlin where he started his first company, Fokker Aeroplanbau. Later he went to Schwerin where the factory got a new name: Fokker Flugzeugwerke GmbH (later called: Fokker Werke GmbH). After the war the Treaty of Versailles banned Germany to produce airplanes or their engines. This made Fokker come back to Holland in 1919 to start a new factory, the Nederlandse Vliegtuigenfabriek. This was the forerunner of the Fokker Aircraft Company. Despite the restrictions of the Treaty Fokker succeeded in smuggling 220 airplanes, 400 engines and many spare parts from Germany to Holland; according to Fokker he had paid 20.000 Dutch Guilders in bribes.Soon the focus shifted from military to civil aircraft, like for instance the very successful Fokker F.VII trimotor. Sadly Fokker went bankrupt on January 22 1996, several divisions were taken over by Stork.
The Zenith Aeronef Red Baron has an in-house built, non-El Primero (only in chronographs) movement, the Elite class caliber 693 beating at 28,800 bph (4Hz) and with a power reserve of 50 hours.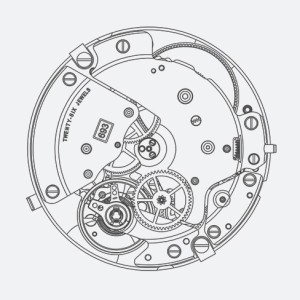 Zenith kaliber 693
The steel case of the Red Baron , diameter 48mm, has a black DLC (diamond-like carbon) coating and the GMT indicators, both on the dial and the central GMT hand, are bright red just like the famous Fokker Dr.I Triplane which the Red Baron flew. On the solid steel case back is a medaillon with an image of the Red Baron's Triplane and the text: 'Montre d'Aeronef Type 20-Zenith Flying Instruments'. Production of the Zenith Red Baron is limited to 500 pieces.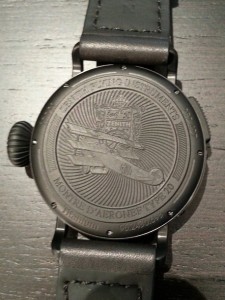 Jaap Bakker
February 2nd
17:30