Swiss watch sales received a severe blow thanks to the outbreak of WOII and things only got worse when Germany occupied Vichy in France in November 1942 and neutral Switzerland was completely surrendered by hostile troops. Watchmakers were closed off from their best clients, the British and the Americans.
Pic.: In the right side of the picture Clive Nutting with his 'Brothers in Arms' in Stalag III
Rolex noticed that large numbers of British and American troops were literally on the doorstep to Switzerland, being held prisoner in the German POW camps. In camp Stalag Luft III in Sagan, Germany (now Poland) there were about 10,000 allied aviators who had been shot down over occupied Europe. In the whole German Empire thousands of officers were being held at several Oflag (officers POW camps).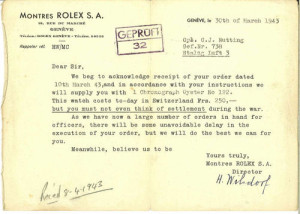 The genius of Hans Wilsdorf at that was that he, spring 1943, took a bet that the allies would win the war (significant because Wilsdorf himself was a German). He offered the thousands of POWs that they could get a Rolex now and that they didn't have to pay for it until the war was over.
In a letter to Clive Nutting (more about him later) Wilsdorf wrote the following line: "…but you must not even think of settlement during the war".
Wilsdorf was convinced that his illustration of faith would have a positive influence on the state of mind of the prisoners. Besides this, having a watch was of great importance to this group of prisoners, mainly aviators; if they saw a chance to escape the only way to reach the border was by train and for this they needed exact time.
The chronograph Rolex gave the prisoners the opportunity to exactly time the rounds of the 'goons' (camp guards) which lead to the 'Great Escape' on March 24-25 1944 when 76 men escaped through tunnel 'Harry' (in 1963 a movie was made called 'The Great Escape').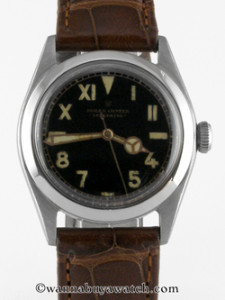 Although most POWs choose the cheaper and smaller Speed King Clive Nutting (prisoner nr. 738 in Stalag Luft III in Sagan, Germany) became, on August 4 1943, the proud wearer of a new Rolex Oyster Chronograaf ref. 3525 (nr. 122, case nr. 185983).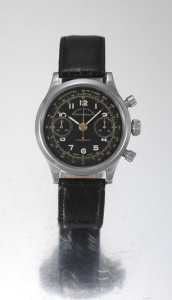 The following is a short description of this watch:
Two-body, polished and brushed, screwed-down case back, concave lugs. D. Matte black with luminous gilt-edged Arabic numerals, outer gilt minute/seconds track, subsidiary seconds and 30-minute register dials, outermost gilt tachometer and telemeter scales. Luminous gilt "baton" hands. M. 13"', rhodium-plated, 17 jewels, straight line lever escapement, monometallic balance, self-compensating Breguet balance-spring, index regulator.
Dial, case and movement signed.
Diam. 35 mm. Thickness 14 mm.
In the beginning of the 1940s the steel version cost 350 and the 18k gold 935 Swiss Francs.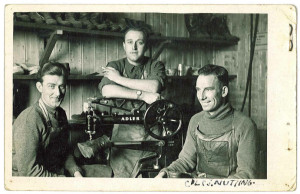 Clive Nutting (on the right) was a professional shoemaker and therefore he was of great value to both the Germans as to the other prisoners. The Germans paid him well for this so he could sent money to his family at home and lent money to other prisoners. Even in these circumstances he was somebody who could afford a beautiful watch.
What makes Nutting's watch so special is that is completely documented, at least until 2007.
Directly after the war, when he came home in Acton, London in August 1945, he wrote to Hans Wilsdorf that his watch, although it had withstood the cold circumstances during evacuation from the camp well, it was now an hour fast. Where can I have it repaired? Can I get the final bill for the watch?
Because of English rate restrictions Nutting receives the invoice for 15 Pounds 12s 6d not before 1948. He kept the watch until he died in 2001 in Australia, 90 years old.
In 2003, dated March 28, there is an invoice for 2,356 Australian Dollar (1,400 Euros) from a watchmaker in Sydney for Nutting's watch.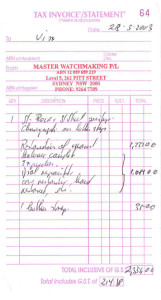 In 2007 the Rolex of Nutting was offered for sale by auction house Antiquorum Geneva. The estimated price was 80,000-100,000 but the watch wasn't sold. The current owner of this historical watch is unknown.
Jaap Bakker