Serpico y Laino: Rolex in Caracas, Venezuela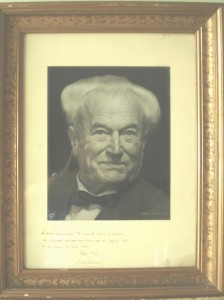 Pic.: Hans Wilsdorf, the founder of Rolex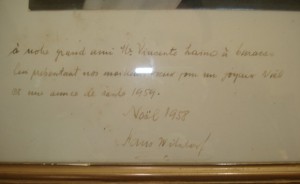 Pic.: personal words from Wilsdorf to Serpico y Laino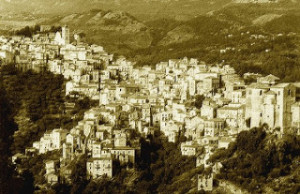 Pic.: Rivello, Vicente Laino's place of birth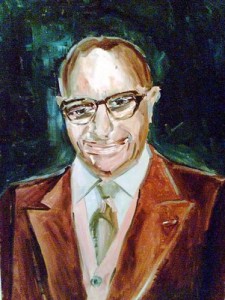 Pic.: a portrait of Vicente Laino at an older age
Born in Rivello in the Basilicata region, Vicente Laino was a young goldsmith and one among the many Italians who sought their fortune in Venezuela at the beginning of the previous century. During the long boat trip over the ocean Laino had fantasies about the still unknown country that was to become his second home land. He dreamt about raising his children and grandchildren in Venezuela and proudly and full of hope he had visions of the work he was going to find.
On his arrival in Venezuela he had nothing but hopes for a good life. Almost immediately he became acquainted with a compatriot, Leopoldo Serpico, with whom a special friendship would develop. There was a large Italian community in Caracas and everybody helped everybody.en iedereen hielp elkaar.
When Laino and Leopoldo Serpico first met, the latter had a small jeweller's shop where he sold and repaired jewellery. It was this shop, 'JOYERIA SERPICO', that provided the basis for the history of Rolex in Caracas. The shop, known as 'Serpico y Laino' from 1925 till 1966, was situated in the Bolsa a Mercaderes in Caracas.
Serpico soon invited him to assist in the shop, as Laino was a goldsmith, but there was one problem: Laino was penniless. However, Serpico realised that Laino was well-educated, both intellectually and in business, and suggested that he became 'SOCIO INDUSTRIAL'. With Serpico's money and Laino's intellectual capital the 'Serpico y Laino' branch was established.
In order to promote their sales to a higher level in the early 30s, Laino suggested travelling to Europe to find a watch brand that had not been sold in Venezuela so far. He travelled to Geneva and decided to choose Rolex. Laino's instinct turned out to be good, for Rolex had been selling many watches to Venezuelan customers already.
Serpico and Laino decided that Laino should return to Geneva for negotiations with Rolex to obtain the exclusive right on the 'Serpico y Laino' branch. The talks with Hans Wilsdorf went off favourably and Laino went back to Caracas with the exclusive right to sell Rolex.
The Rolex deal was a big success for 'Serpico y Laino' and the company managed to obtain the exclusive rights on other watch brands as well.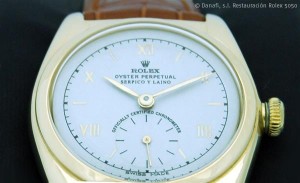 Pic.: a Rolex Oyster from 1935 (ref 5050) sold by Serpico y Laino
The friendship between Serpico en Laino became even stronger by lot. Laino met the sister of Serpico's wife and fell in love with her. In the middle of their wedding preparations Laino received a letter from the Italian government saying that he should present himself in his homeland as soon as possible in order to fight in WO II. He left behind everyone and everything he cared for and returned to Italy.
The biggest tragedy, however, was that Serpico lost his life in 1944.
After the war Laino was left to his own devices. He travelled to Europe increasingly often and stayed there for a couple of months to purchase for the company. For this purpose he visited Switzerland, Germany, Belgium, The Netherlands and France. He forwarded all purchased goods directly to Venezuela by waterway, except precious stones which he kept.
After his travels throughout Europe Laino used to spend a week or so in Rivello, his place of birth, to rest himself for a while in order to take fresh heart to continue his business.
Unfortunately, while his business was doing well, Laino's wife fell ill and died, so he was left with two children. From that moment Laino was only occupied with the company, his total dedication resulting in lots of work and success for 'Serpico y Laino'. An important element was that in the shop the best European watches could be bought directly whereas orders in Europe were not forthcoming because they had to be forwarded by boat. During Laino's travels to Europe the following individuals were responsible for the shop:
- Fernando Ponce de Leon, the husband of Serpico's daughter; most of the guarantee forms were signed by him – Agustin Laino, Laino's eldest son
- Efrain Serpico, Serpico's son
- Domingo Laino, Laino's brother; was no partner in the company, but he worked as a representative
- Andreas Gambardella Laino, Laino's nephew
In 1959 Vicente Laino passed away, so the brains behind 'Serpico y Laino' ceased to exist.
In spite of this heavy loss the shop continued on a favourable trend for a few more years until the circumstances in Venezuela changed drastically. The investment climate, which used to be decent, turned into an atmosphere of crime, murder, theft and kidnapping. Members of both families became involved in kidnapping attempts, but a bomb attack in the 'Joyeria Sucursal del Este' in 1966 brought an end to 'Serpico y Laino'.
It was decided to return the remains of the goods to the manufacturers and to start completely different business with no partnership between both families.
Andreas Gambardella re-opened the shop, but he was forced to use a different name, 'Serla', because he was not granted the right to use the original name initially. Once he had been given consent, some years later, he no longer had the exclusive right to sell Rolex.
In the early 70s Andreas Gambardella died and his widow appointed a shop manager. She went to Italy, taking her four sons with her. 'Serpico y Laino' never regained its old reputation. In the year 2013 there is a shop in the Eurobuilding Hotel in Caracas called 'Serpico y Laino', but it has nothing to do with the wonderful company that Leopoldo Serpico and Vicente Laino had established almost a century ago.
Below you will find an overview of a number of the beautiful Rolex watches sold by 'Serpico y Laino' over the years.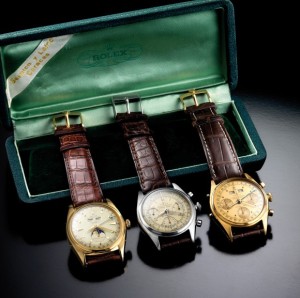 Pic.: ref 6062, ref 6034 and ref 6036 'Jean Claude Killy'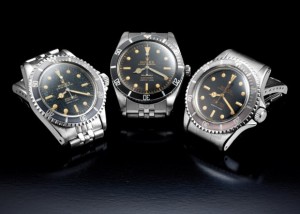 Pic.: ref 5512, ref 5508 'small crown' and ref 5512 'underline'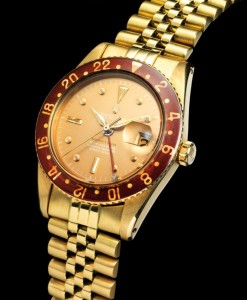 Pic.: ref 6542 GMT Master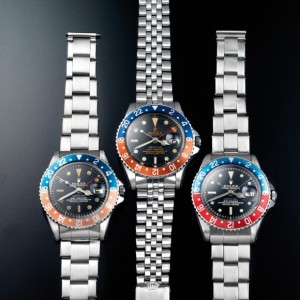 Pic.: ref 1675 GMT Master, transition model around '63-'64 with 'underline' (new tritium generation) dial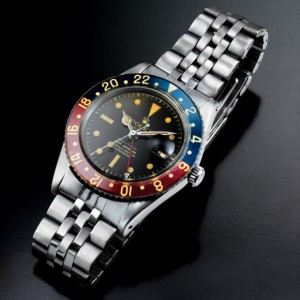 Pic.: ref 6542 GMT Master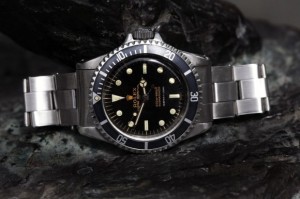 Pic.: ref 5512 from 1963 with 'pointed crownguards' and 'underline'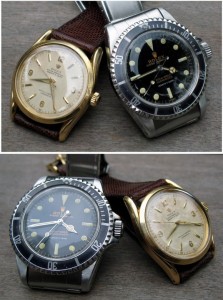 Pic.: yellow gold Rolex Bombay with 3-6-9-12 dial and ref 5512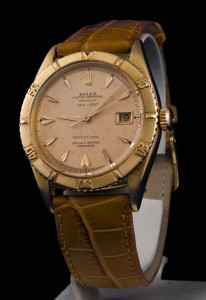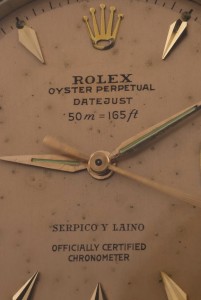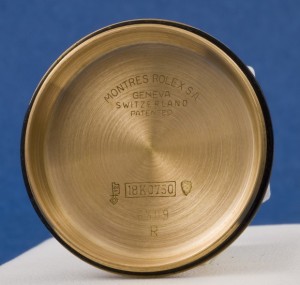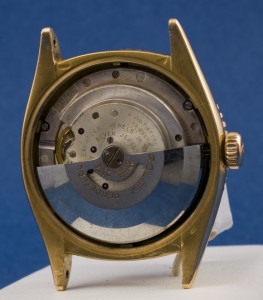 Pic.: ref 6309 Thunderbird with 50m = 165ft on dial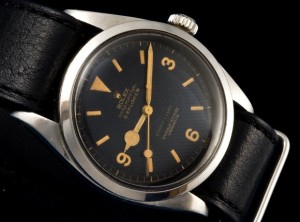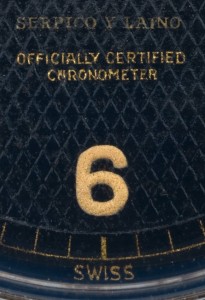 Pic.: ref 6350 Explorer from II-1953, exactly the moment when Sir Edmund Hillary and Tenzing Norgay were climbing Mount Everest (see article:'Sir Edmund Hillary and Tenzing Norgay: Trial of Strength with Mount Everest')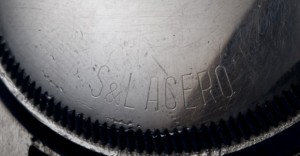 Pic.: marking of 'Serpico y Laino' (S&L) on the inside of the case (acero = steel)
Until 1960 the beautiful city of Caracas was a nice place to be. But it was far more important for 'Serpico y Laino' to be able to do business in a fair and agreeable fashion until that time.
Finally, a Rolex with a Dutch touch sold by 'Serpico y Laino'.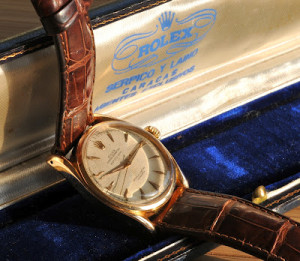 Pic: Rolex Bombay (in this version the top-side watchcase legs are spherical in contrast to the straight ones of the standard Oyster). What makes this watch really special is the honeycomb dial, a model which was produced only for a short period of time.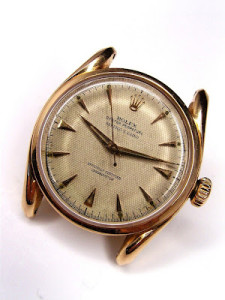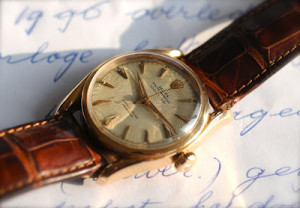 Pic.: this picture clearly shows the honeycomb dial
However, the most remarkable thing about this watch is the inscription on the back of the watch cover, saying 'G G' in capitals and 'Gervegeria Heineken 1954′ around the back side. This watch was offered as a farewell gift to someone who had established the Heineken brewery in Caracas between 1951 and 1954. What golden handshake!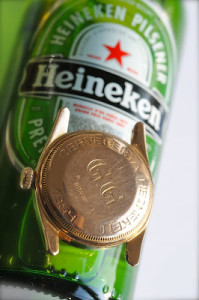 Jaap Bakker
November 27th
10:44