7 Variants of the Double Red Sea-Dweller
This article is about the Double Red Sea-Dwellers that were made between 1967 and 1969 (serial numbers between 1.7 and 2.2 million). There are dials with a line in red and other dials with two lines in red without the number '2000′. The initial dial is in red, possibly printed on a white background, and both lines have the same format font. A couple of watches of this version have a faded dial causing the red letters to have changed into rose or white. The 'O' under the five fingers of the Rolex crown is clearly visible. Most versions of this model have 'patent pending' on the back of the case.
VERSION 1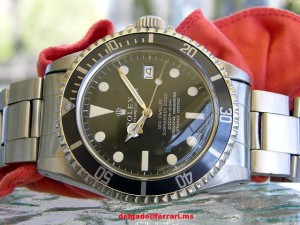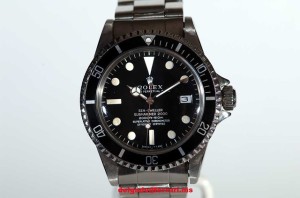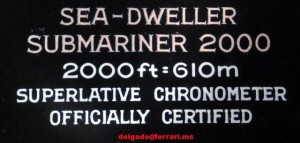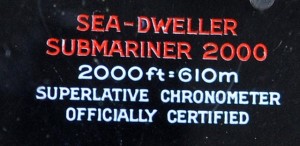 VERSION 2
The second version of the dial can be found in about 1.7 million cases. The distinctive character of this dial is the way it is printed. In general the print is in clear red and applied directly on the background. The font of the second line is smaller. In rare cases the dial is faded into matt black, light brown or chocolate which are also called the 'chocolate dial'. The fingers of the crown are disfigured and the 'O' is practically non existent.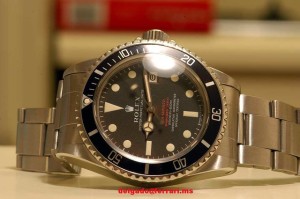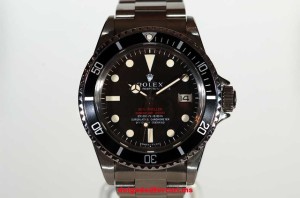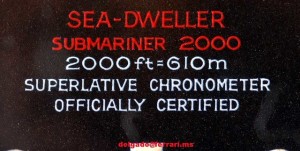 VERSION 3
This version is rare. The red print on the dial looks very much like the one on version 2 but here the crown is clearly printed and it has a flat lower part, looking like the first version. The 'D' in Sea-Dweller is in line with the 'R' in submariner 2000. In version 2 the 'D' is in line with the 'I' of submariner 2000. Version 3′s print is comparable with Version 2′s but the space between the depth markers is different and so is the crown.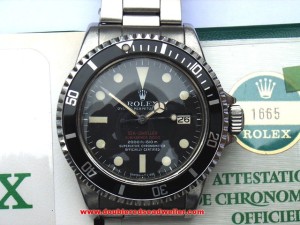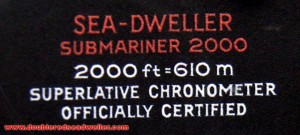 VERSION 4
The final version of the dial was made for general production and is the most common one. The red print is clear but not heavy and when one uses a magnifying glass the print looks like it's made of small dots. The font of the upper red line is significantly bigger than that of the second line. The crown is big, the five fingers are clearly printed and the 'O' is rather big.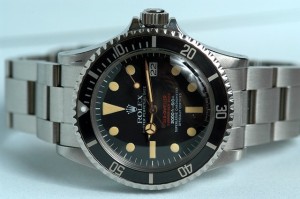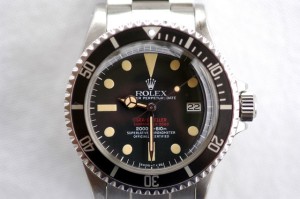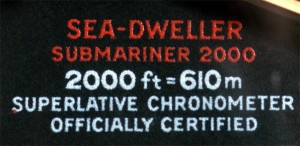 VERSION 5
This is a common version of the dial. The crown is the same as in the second version. The upper two lines are in red. Depth markings 'ft' and 'm' are in italics and the most important detail is the markers containing luminova.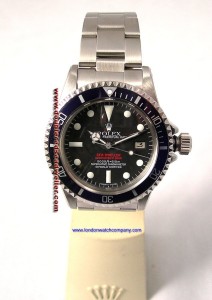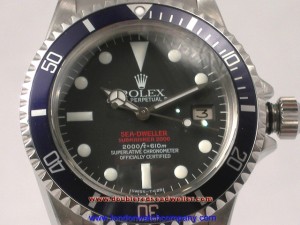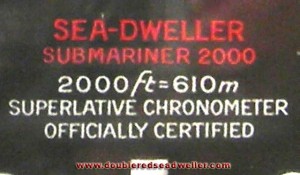 VERSION 6
This is the white Sea-Dweller dial with markers in luminova and red print over the word 'SEA-DWELLER'.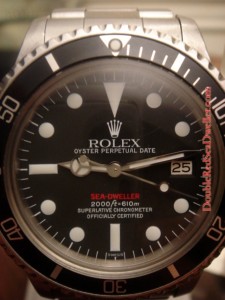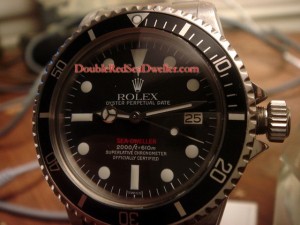 VERSION 7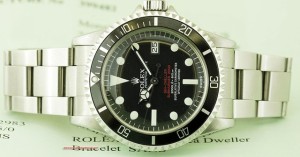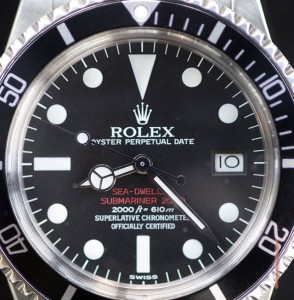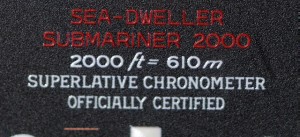 Jaap Bakker
July 21st
9:00