A new area: the Rolex Oysterquartz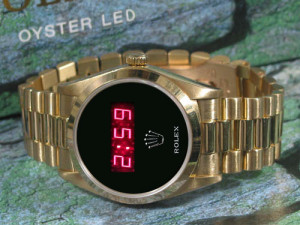 Pic.: Rolex Oysterquartz ref. 7065
Although Rolex has always had their full focus on mechanical watches it would be wrong to think that quartz watches would have been an afterthought for Rolex.
As early as the 1950s Rolex was busy with research about electronic timekeeping and in 1952 they received their first patent for a design of an electro-mechanic watch. An interesting fact is that of the 50 patents Rolex issued between 1960 and 1990 21 were for electronic watches. The most extreme were the patents of Rolex in the seventies for digital (LED) watches. They even built one prototype with ref. 7065.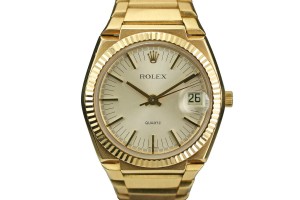 Pic.: Rolex Quartz 5100
The first quartz watch that Rolex brought to the market was the Quartz Date 5100 in 1970. The watch had a Beta 21 movement which was also used by Omega and Enicar. Total production was only 1.000 watches because Rolex wanted to produce their own movement as soon as possible. After 5 years of designing, developing and testing the first completely in-house made movements were presented in 1977, the 5035 and the 5055. These were housed in the ref. 5035 Datejust and the ref. 5055 Day-Date.
The 5035 and 5055 quartz modules made by Rolex were not only technologically the best one could get but also in terms of design and finish. The movements with 11 rubies used the latest CMOS (Complementary Metal-Oxide Semiconductor) coupling system, a 32 khz oscillator and analog thermocompensation. The standard of quality for the Oysterquartz that Rolex used was even higher than the standards for their mechanical watches. Also esthetically the quartz movement that Rolex made is at the very top of the market and it is even said that it is the most beautiful quartz movement ever made.
According to the estimates their are just short of 25,000 Oysterquartz watches produced by Rolex. The final model was the ref. 17000 in steel in the year 2001 (although after 2001 not in the catalogue anymore you could buy them up to 2003). Variations were the ref. 17014 with a white gold bezel, the ref. 17013 in steel/gold and the ref. 17018, a Day-Date in gold.
For further information about the Rolex Oysterquartz the following link is useful:
The following are some beautiful pictures of the Oysterquartz:
Jaap Bakker
October 16th
16:02