Casio G-Shock: a non Swiss icon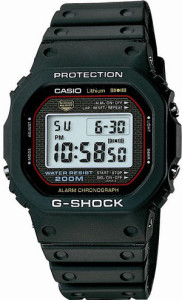 Pic.: the first Casio G-Shock, ref DW-5000C-1A
After a couple of years of hard working and smart thinking engineer Kikuo Ibe, working for Casio, could finally introduce the G-Shock in 1983. He and his team had been working around the triple 10 concept:
- the battery had to last for 10 years
- it had to be water resistent to 10 bar (100m)
- the watch had to survive a fall from 10m onto a hard surface
The first two demands were relatively easy to come by but the third gave Ibe headaches. Until one day he saw a child in a swimming pool playing with a rubber ball. The movement needed to float in some sort of material that would protect the inner watch against shocks. They developed the 'floating module' concept where the quartz mechanism floated free in a urethane foam cradle, with things like the outer buttons, and LCD module attached with flexible cables, with the buttons mounted to the watchcase, rather than the quartz module.
It was released in April 1983, seizing the unfilled recreational and sporting market for bulky, functional watches. In the first years Casio released a handful of new models each year and in 1991 the Baby-G models were released. The popularity of G-Shocks increased rapidly throughout the 1990s. By 1998, 19 million G-Shocks had been sold worldwide and there seemed to be a peak in demand as over 200 new models were released in that year alone.
G-Shock Milestones
Year Features Model
1983 World's first shock-resistant wristwatch DW-5000C-1A
1985 Square-shaped face with dust/dirt-proof construction DW-5500C-1
1987 Best-selling model and successor to the square-shaped DW-5000 DW-5600C-1
1987 Circular-shaped model DW-5700C-1V
1989 Adopted a combination of analog and digital display AW-500-1E
1990 First hit model in Japan, employing a new face design DW-5900C-1 / DW-6000GJ-1
1993 First Frogman diving model, water resistant to a depth of 200 meters DW-6300-1A
1994 Equipped with EL backlight DW-6600
1994 First model supporting environmental protection "Dolphin & Whale Eco-Research Network" Model
1994 Shock-resistant wristwatch for women (first Baby-G model) DW-520
1996 Pair of G-SHOCK and Baby-G watches (his and hers) Lover's Collection
1996 Full-metal casing with shock-resistant construction MRG-100
1998 Tough Solar G-SHOCK with solar-powered mechanism DW-9300
2000 Wave Ceptor watch with radio-controlled timekeeping GW-100
2002 Solar-powered radio-controlled watch GW-300
2005 5-motor chronograph module with multiple functions GS-1000
This line of watches has expanded considerably since then and now includes atomic clock synchronization and Tough Solar functionality in the latest models. The Cockpit Series G-Shock is the official timekeeper of Nismo Racing. Many newer G-Shocks feature metal (steel or titanium) banding and ornate analogue timekeeping.
Twice a year (Spring/Summer and Fall/Winter collection) the basic models are updated. New limited models are introduced more frequently through the year. As with Swatch watches, G-Shocks have become collectors items. Arguably, the most sought after line is the Frogman. Limited edition Frogmans such as the Brazilian, Men in Yellow, Black Helios and Black Spots are some of the most desirable Frogmans.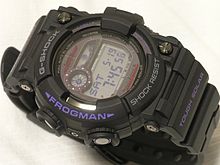 Casio also produces collaboration models, often with popular fashion brands, like A Bathing Ape (Bape), Stussy, Xlarge, KIKS TYO, Nano Universe, Levi's, Lifted Research Group, as well as Coca Cola, Pulp68 Skateshop, Lucky Strike and Marlboro.
G-Shock is popular with mountaineers, firemen, paramedics, police officers, astronauts, film directors (Tony Scott was often pictured wearing a GW-3000B, as is Ron Howard and Francis Ford Coppola) and soldiers. Ex-Special Forces soldier Andy McNab mentions in several of his novels how his fictional character Nick Stone relies on a G-Shock watch. According to Mark Bowden's book Blackhawk Down, the DELTA Operators wore G-Shock watches during the combat events of 3rd & 4th October 1993. Since then, G-Shocks watches have become very popular with Special Forces groups in both American and other NATO nation units, due to their being "battle tested".
Models DW-5600C, DW-5600E, DW-5900, DW-6600, DW-6900 are flight-qualified for NASA space travel.
In 2012, Casio released GB-6900, a Bluetooth-capable model of G-Shock. As of June 2012, it was only available in Japan. Casio claimed the battery life of 2 years on a single CR2032 battery.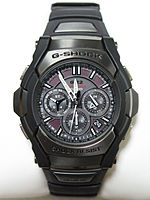 Pic.: Astronaut Thomas Reiter during Expedition 14 wearing G-Shock 5900 on the International Space Station
The Casio G-Shock is one of my favourite watches. You can literarely do everything with the watch on your wrist without ever having to worry that you cross the line of what it can withstand. It's attraction is also in the fact that it is the total opposite of your beautiful Rolex or Jaeger-LeCoultre. And of course the prices are friendly what makes it easier to collect them.
In my eyes every watch collector should have a G-Shock in his collection. The only question remaining is whether the Swiss will ever come with a watch that can seriously compete with the Casio G-Shock.
Jaap Bakker
August 29th
14:56