Rolex for the army: special order or standard issue?
As collectors know several Rolex models exist with a marque of an army unit on the back of the case. For instance the British broad arrow on some Submariner models from the 60s and 70s.
Then in January 1990 the strangest thing happened. Rolex wrote a letter to Italian collectors saying that these kind of watches were never made. How is this possible?
The answer is that these watches were never specifically designed for the army but that several units were given standard watches that were in production at that moment and that were modified (for instance different hands or other numbers on the bezel).
There is always an exception to the rule and in this case, as the letter said, that is the:" Radiomir Panerai produced in the 40s by our dealer for the Italian Navy. This watch was specially made for their famous Commando divers and it was designed and manufactured by Panerai. Rolex was only the supplier of the calibers so there was no Rolex on the watches".
But there is another question that is still unanswered after reading these lines. A letter of intent (11/1954) between G. Panerai & Figlio and S.A. Montres Rolex Geneva said the following: "The deal is cristal clear that the waterproof watches with the Oyster cases G. 6152 and G. 6154 (or comparable models) who have been made for over 15 years at the request of and solely for the Panerai firm, are absolutely for G. Panerai & Figlio and can not be supplied to a third party with a Rolex or another caliber".
The question remains open if Rolex only supplied the cases to Panerai or also the calibers.
Whatever the truth, it is clear that Panerai, nowadays a very popular watch brand for collectors, is one of the keystones on which the fame of Rolex is built.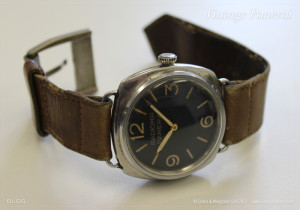 Pic.: Radiomir Panerai ref 3646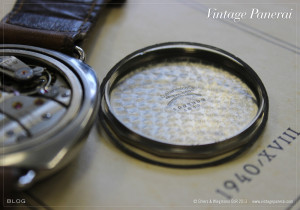 Pic.: Inner case with Oyster Watch Company, Geneva, Swiss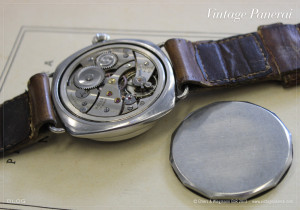 Pic.: Rolex cal. 618/Type 1 (typical: 'ROLEX 17 RUBIS' on the central bridge)
Jaap Bakker
July 21st
8:05