From Hans Wilsdorf to the Oyster perpetual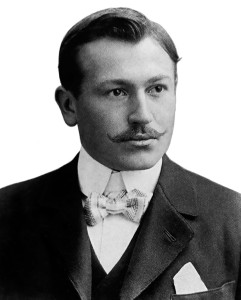 On the 22nd of March 1881 Hans Wilsdorf was born in Kulmbach, Bavaria (D) into a successful, middle class family of iron mongers. Wilsdorf became an orphan at the age of twelve and he moved to his aunt and uncle. They directly sent him to boarding school in Coburg (40 km from his home). Wilsdorf had a terrible time here and he indulged himself completely in his schoolwork to survive. The fact that he learned the English language perfectely here was the first illustration of his brilliant thoughtfulness.
One day Wilsdorf decided that he had enough of school and he traveled to Switzerland to start working for a dealer in pearls. He started to learn the business and remarked that, without producing anything, they made good profit. Wilsdorf saw how the pearls were bought from different sources, sorted and sent to the juwelers after their grade was determined. Working here was a very useful experience for Wilsdorf.
Finally he got a job at the growing watch company Cuno-Korten in Switzerland. He was hired because he was fluent in English. Wilsdorf handled all corresponce with the British Empire and the US which were the richest nations. It was at this company that Wilsdorf's lifelong passion for watches and their accuracy started.
The year 1905 was crucial for the start of Rolex, a couple of years later. Wilsdorf, together with his brother-in-law James Davis, started the watch import firm Wilsdorf & Davis in London.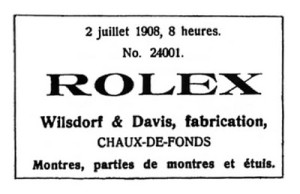 Wilsdorf, yet again, showed to have great thoughtfulness. He foresaw a trend in which wrist watches would start to replace pocket watches. He convinced a small watch maker, Hermann Aegler in Bienne, to start making calibers that were small enough to fit in a wrist watch. The phenomenon wrist watch received a lot of cynism. With a nice pocket watch a man was respected and it was even said that a gentleman would rather wear a skirt than a wrist watch!
Watch makers feared that the watch would be too small to be accurate enough and that it could not withstand the constant movement of the wrist. They thought that dust and dirt were also going to cause trouble to the watch. Only a few watch makers dared to make wrist watches.
The reluctance of the watch industry motivated Wilsdorf to keep making wrist watches smaller and more accurate. In cooperation with Aegler, who now had a reputation of making good lever escapement watches, a small caliber was developed. The first order was a milestone because the worth of it (several 100.000s Swiss Francs) was five times the total capital of Wilsdorf & Davis.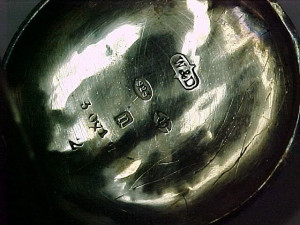 From this moment on Wilsdorf fabricated and sold watches (case and caliber were imported from Bienne). He wanted his watches to be available for a broad public, not too expensive, stylish and accurate. Wilsdorf's vision was again that of a genius. He offered the watches in a variety of cases: sports, casual, formal and other forms. Direct result from this was that the clients bought several watches, depending on what their activities were. The wrist watch became very popular among the sporting Upper Class in England.
All the parts of the watches came from different suppliers. At that time it was still common that the name of the supplier was stamped on the dial and the caliber. Wilsdorf realised that he very much needed to create his own watch brand to make a difference with all the others (which he also saw as inferior to his watches because he was the only one demanding strict tests before the watch was sold).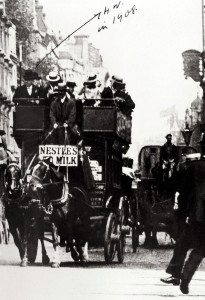 On the 2nd of July 1908 Wilsdorf & Davis registered the name 'Rolex' as trademark in La-Chaux-de-Fond. There are several stories about the origin of the word 'Rolex'. Some say it is a combination of 'Horlogerie' and 'Exquisite' and others say it is short for 'Rex Horologlorum'. But most likely Wilsdorf was inspired by George Eastman who in 1884 didn't call his camera Eastman 25 but Kodak. Eastman had already said that a brand name has to be short, sharp and not prone to misspelling which would destroy it's identity. Also important, because of trademark laws, was that the word didn't mean anything.
For Wilsdorf it was also important that the name would fit nicely on the dial and that it was easy to pronounce in many languages.
Rumours say that Wilsdorf, during his morning ride in the tram, in sunny weather came up with the name 'ROLEX'.
In the beginning Wilsdorf had an unforeseen battle to fight to get the name Rolex on the watch and not that of the supplier. During that period Rolex watches also wore the following names: X/L, W/D, Marconi, Genex, Rolco, Oyster and Tudor.
Next follows an overview of the most important facts in Rolex history leading to the Rolex Oyster perpetual:
- 1910: Test of a Rolex watch by the School of Horology in Bienne. It was graded excellent and received a chronometer certificate, the first wrist watch with this certificate.
- 1914: Class A Certificate from the Kew Observatory in England. First wrist watch to pass these tests, normally for large chronometers. Accurate in 5 positions and 3 different temperatures. From now on every Rolex chronometer got a Official Timing Certificate.
- 1919: After WOI import taxes were 33% and Wilsdorf was forced to leave England and go to Switzerland. In Geneva he founded Montres Rolex S.A.
Later Rolex S.A. of Geneva and Manufacture des Montres Rolex S.A. of Bienne (Jean Aegler) merged after which there was one company that was controlled by the Hans Wilsdorf Foundation (an institution with the intent to spend a part of the profit on non-profit organisations. The Foundation was founded in 1945 by Wilsdorf who had no children).
According to Wilsdorf there were 3 components that a wrist watch needed to have: precision, waterproof and self-winding (he even thought that one component was useless without the other two). Of course watch makers had been busy for years to try to fit the three components in one watch but they still hadn't found a solution for the 2 most vulnerable parts: crown and winding system. It was clear to Wilsdorf that a watch was as good as the case could protect all the parts inside. This puzzle had become very relevant for Rolex because their watches were also sold in Africa and the Far East. The ships from England took so long to reach their destination that at the arrival 50% of the watches was rusted.
- 1926: The creation of the Rolex Oyster, a wrist watch with the crown screwed to the case with a twin lock system. Just like an Oyster the case was now water and air tight. To test the water resistance of the case they developed a test with which 0,05 mg of water could be detected when the case was under water. After intensive marketing and advertising the Rolex trademark was introduced in 1925 and from 1927 all the watches had 'Rolex' stamped on the inside of the case, the caliber and the dial.
- 1927: Mercedes Gleitze, a young stenographe from London, swimmed the Channel with a Rolex Oyster as part of her gear (see article: Mercedes Gleitze). Juwellers now had aquaria in their show rooms with gold fishes swimming around a Rolex Oyster; Oyster's were now garanteed water proof to 100 m
The next event that showed that a Rolex was reliable under all circumstances was the flight that Lt. Cathgart Jones made. He flew from London to Melbourne and back, a trip of over 25.000 miles, after which his Rolex watch was only a couple of seconds of the right time.
- The last challenge for Rolex now was the development of an automatic winding system. Half way during the 19th century Abram-Louis Perrelet Senior, a watch maker from Le Locle, invented the first such system. Abram-Louis Breguet in Paris and Recordon in London perfected the system but is was only used for 20 years because it was much to vulnerable.
After WOI Englishman John Harwood invented an automatic winding sytem but still not good enough for Wilsdorf. The system had to be completely automatic, quiet, winding in both directions and no buffer coils. The main problem was how to protect the mainspring from getting overloaded because of the constant movements of the wrist.
- 1931: Emile Borer, head of technique at Rolex, invented the 'Rotor'. Finally Rolex had found the solution and developed the ideal automatic winding system. The 'Rotor' had the shape of a half moon and with every movement of the wrist the Rotor followed because of gravity. It also turned out that the automatic watches were more accurate than the hand winding ones because the energy to the mainspring was much more constant
Jaap Bakker
July 21st
11:53