Rolex as seen by artists
The mechanical movement of a Rolex watch in itself can cleary be called a form of art. Both technically, the whole of screws, cogs and coils that can accurately keep time, as esthetically, the beautiful way the movement is finished. But still there are people that go even further, people who approach the subject Rolex with their artistic skills.
The following pictures show that this phenomenon can take many forms. It is a colourful collection of drawings, sketches, paintings and statues. There is even a hotel that is designed around the theme Vintage Rolex watches.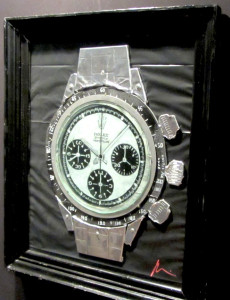 Pic.: an artistic impression of a Rolex Daytona by the Italian artist Marcello Reboani.
The following link to his site shows another Rolex piece of art by Reboani:
Rolex Daytona by Marcello Reboani
Pic.: the Rolex Milgauss as seen through the eyes of Charles Helleu.
Apart from Rolex Helleu also has pictures of other watch brands as can be seen on his site:
Horloges by Charles Helleu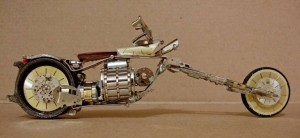 The three pictures above are made of pieces of art made by the Brazilian artist José Geraldo Reis Pfau. This 57 year old Brazilian was born and grew up in Blumenau, Santa Catarina. Reis Pfau constructs miniatures of motorcycles by using watch parts, Rolex also among them. For him it is still a hobby that he performs in the evening. Until now the collection, consisting of more than 200 pieces, is still private property but in the future Reis Pfau hopes to be able to sell them as well.
Reis Pfau's passion for motorcycles started in the Sixties and along the way he became interested in building miniatures of them. While doing research into the possibilities for his newborn hobby he saw beautiful pieces made from wood, pottery, screws and wires but working with watch parts and glasses seemed to really be the way to go in the future.
A friend of Reis Pfau, Alexandre Ranieri Peters, was a great help to him in obtaining the nessessary parts. Ranieri Peters was a shop owner and he launched an advertising campaign saying that the customer, when buying a new watch or glasses, could use their old stuff as a first installment.
Take a look at many more motorcycles on the site of Reis Pfau:
José Geraldo Reis Pfau
These pictures were taken at the fantastic Hotel d'Orologio in Florence. The starting point for the design and interior of this hotel has been the 'International Haute Horlogerie', with emphasis on the Vintage watches. Collector's items from the watch world have served for details in the decoration and as suggestions for the interior design. The details are so subtle that for instance the taps look like watches' crowns.
On the site of the Hotel d'Orologio there is a slide show with more beautiful pictures:
Hotel d'Orologio
The British artist Thomas Brown has a site which shows a lot of pictures made by him, about all sorts of subjects, but there are also four pictures of Rolex watches:
Thomas Brown Rolex

In the above picture is the French painter Didier Valle, born in Paris in 1958 and now living and working in Bordeaux, with a painting of a Rolex Daytona. On his site he says: "I LOVE WATCHES, SO I PAINT THEM…".
A couple of years ago he was working on a serie of paintings of collector's cars dashboards when, looking at the clocks on the dashboard, he suddenly thought how logical it was to start painting watches: watches had everything he sought in a subject, different materials, formats, fonts and transparancy.
Following link shows a wall full of watch paintings by Valle, including two Rolex watches:
Didier Valle
Jaap Bakker
November 27th
12:16