Sir Edmund Hillary and Tenzing Norgay: contest with Mount Everest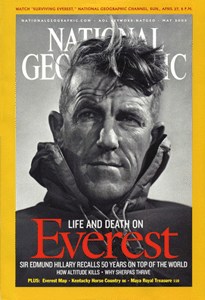 Edmund Hillary was born in Auckland (NZ) on 20 July 1919. His parents were Gertrude Hillary, born Clark, and Percival Augustus Hillary. In school Edmund was smaller than his peer group and he was a very shy boy taking refuge in his books and daydreaming about an adventurous life. He started boxing thanks to which he gained more confidence and he started growing. At the age of sixteen his interest in mounteneering was aroused during a school outing to Mount Ruapehu. Although 1.95 m and all lanky and leggy he discovered that he was physically stronger and had more stamina than his fellow climbers. Edmund studied maths and science at the University of Auckland and in 1939 he completed his first real climb when he reached the top of Mount Ollivier (in the Southern Alps). Together with his brother Rex he became a bee-keeper, a summer activity which allowed him to climb in winter. In the build-up to the climbing of the Mount Everest in 1953, Edmund participated in a number of other expeditions. In 1948 he reached the southern ridge of Aoraki/Mount Cook, the highest peak of New-Zealand, together with Harry Ayres, Mick Sullivan and Ruth Adams. In 1951 Edmund took part in a British exploration of Everest led by Eric Shipton. In a team, also led by Shipton, Edmund and George Lowe tried to conquer Cho Oyu. When it became clear that it was impossible to do so from the Nepalese side, Edmund and Lowe crossed the Nup La to Tibet and reached the old Camp II, on the northern side where all of the pre-war expeditions had been.
In 1952 Edmund and his friend George Lowe were invited by the Joint Himalayan Committee to join a British team and climb the Mount Everest the following year. Eric Shipton was the initial leader of the expedition, but he was replaced by Hunt. He composed 2 teams that were to reach the top. Team 1 included Tom Bourdillon and Charles Evans, team 2 Edmund and the sherpa Tenzing Norgay. It was extremely important to Edmund and Tenzing to create a good-working friendship.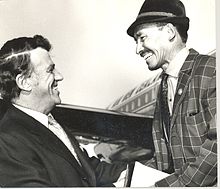 Pic.: Edmund Hillary and Tenzing Norgay, circa 1971
The Hunt expedition consisted of over 400 people including bearers and 20 Sherpa guides. The luggage weighed approximately 10.000 lbs. Lowe supervised the preparations for climbing the Lhotse Face, a large and steep ice wall and Edmund thought of a route through the treacherous Khumbu Icefall. An indispensable part of Edmund's equipment was the Rolex Oyster Explorer he was wearing around his wrist. In Edmund's company, this watch reached the top of Mount Everest without a whimper.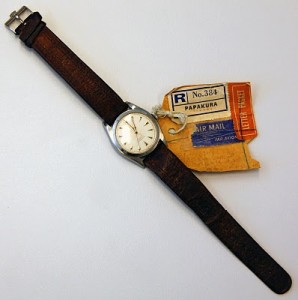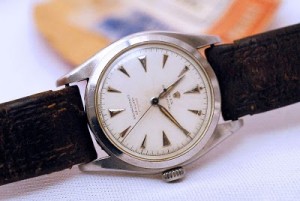 The base camp was pitched in March, 1953. Slowly they climbed further towards the final camp on South Col at a height of 7,890 m. On 26 May, Bourdillon and Evans tried to reach the top, but they were forced to return, because Evans' oxygen system failed. Eventually, the couple had reached the South Summit, being only 91 m below the top. Subsequently, it was Edmund's and Tenzing's turn to try to reach the top.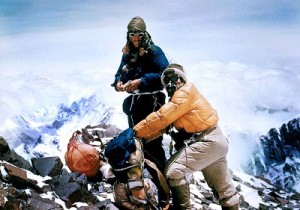 Severe snow storms and wind caused the duo to be stuck on the South Col for two days. On 28 May, they set off supported by the Lowe, Alfred Gregory and Ang Nyima trio. That same day Edmund and Tenzing pitched their tents at a height of 8,500 m while the supporting team descended. The next morning Edmund learned that his boots outside the tent were entirely frozen. It took him 2 full hours to defrost them, but then he and Tenzing were able to start their final climb to the top. They were packed up with 40 kilo weighted rucksacks. The crucial climbing phase was the conquering of a 12 meter high cliff (later called the Hillary Step). Stuck between the cliff and surrounding ice Edmund managed to work his way up through this crack, followed by Tenzing. From there it was relatively simple to reach the top. In the story he wrote later, 'The Dream Comes True' Tenzing argues that Edmund was the first to reach the top, but according to Edmund they jointly did so. They conquered the top of Mount Everest, the highest point on earth (8,848 m), at 11.30 a.m. As Hillary said: 'A few more whacks of the ice axe in the firm snow, and we stood on top'. They stayed on top for only some fifteen minutes. There Edmund took the famous picture of Tenzing carrying his ice axe, but because Tenzing never took pictures, there are none of Edmund on top.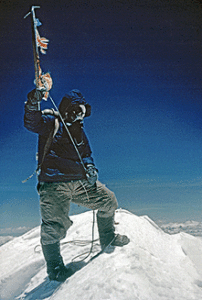 However, in Tenzing's autobiography 'Man of Everest' he says that he offered to take pictures of Edmund, but the latter would not allow him ('I motioned to Hillary that I would now take his picture. But for some reason he shook his head; he did not want it'). Tenzing left chocolats in the snow as some sacrifice and Edmund placed a cross he had received from John Hunt. Additional pictures were made to produce conclusive evidence that they had actually reached the top of Mount Everest.
The descent was rather tough because the snow had covered their tracks, so it was difficult for them to discover their earlier footsteps. The first person to congratulate Edmund and Tenzing was Lowe who had climbed up carrying hot soup to welcome them.
'Well, George, we knocked the bastard off' – Edmund Hillary's first words to lifelong friend George Lowe on returning from Everest's summit
The news about the successful expedition reached Engeland on Queen Elizabeth II's coronation day and the press called this a coronation gift. By way of thanks for this 37 people of the team were awarded with the Queen Elizabeth II coronation medal, MOUNT EVEREST EXPEDITION being engraved on the rim. Edmund and Hunt were knighted by the young queen and Tenzing was awarded by the British Empire as well.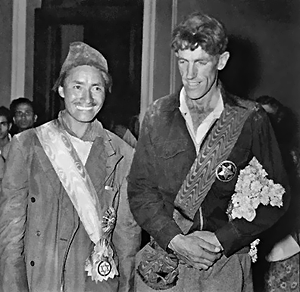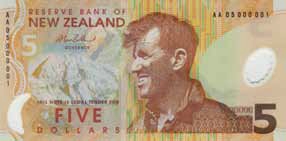 Below you will find a few more ads in connection with Edmund's Oyster Explorer: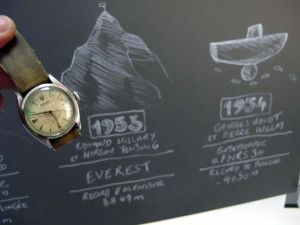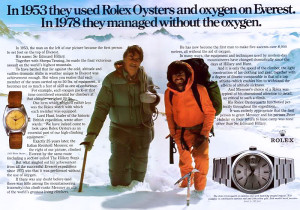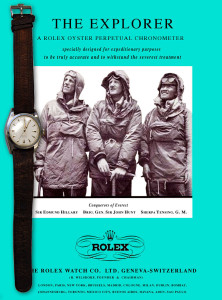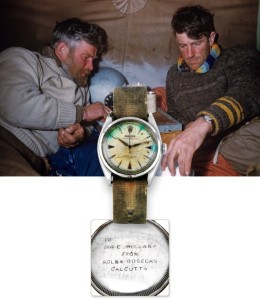 Pic.: The Rolex Oyster Explorer ref 6084 which was given to Edmund after he reached the top of Mount Everest
Jaap Bakker
October 10th
14:35