Sir Malcolm Campbell: the first Rolex on Daytona
" World's record speeds are decided by fractions of a second. Tuning a car for a world mark is therefore a battle against time. To win, you must have a combination of a perfect car, the right course and favorable weather. And I am going to add another requisite-luck, which always plays a large part in such undertakings. By luck I mean what Americans call having the 'breaks'. Daytona Beach, Florida is the only place I know where it is possible to make world's land-speed records. The sand packs almost as hard as cement, and there is sufficient length to get up speed. " – Sir Malcolm Campbell (May 1932)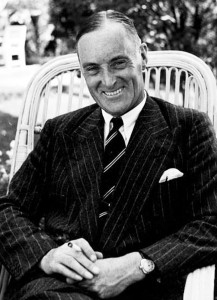 Pic.: Sir Malcolm Campbell wearing a Rolex Oyster
Malcolm Campbell was born in 1885 in Chislehurst, Kent, as the only son of William Campbell who was a diamond merchant in Hatton Garden. After being a student at Uppingham School Malcolm went to Germany to become a diamond dealer himself. In Germany he developed an interest in motorcycles and racing. Back in the UK he worked for Lloyd's in London for two years, starting with an income zero the first year and a pound a week the next.
During the period from 1906 till 1908 he won all three of the London to Lakes End Trials (motorcycle races). In 1910 he started racing cars at Brooklands. He called his car Blue Bird, painted blue, after seeing the play The Blue Bird by Maurice Maeterlinck at the Haymarket Theatre.
During WWI he served in the Queen's Own Royal West Kent Regiment and in the RAF.
Sir Malcolm Campbell became famous because all of the speed records on land and water that he broke. He also raced successfully in several Grand Prix car races. In 1927 and 1928 he won the Grand Prix de Boulogne in France driving a Bugatti T37A.
A list of his most important land speed records looks like this:
- The first time he broke the record was in 1924 with a speed of 146.16 mph (235.22 km/h) on Pendine Sands near Carmarthen Bay, driving a 350 bhp V12 Sunbeam (presently in the National Motor Museum, Beaulieu). Between 1924 and 1935 he broke 9 speed records, 3 on Pendine Sands and 5 on Daytona Beach. For the first two attemps he used a Sunbeam.
- On the 4th of February 1927 Campbell broke the record on Pendine Sands. He drove the 'Flying Kilometre' (the average of two attemps) with a speed of 174.883 mph (281.447 km/h) and the 'Flying Mile' with 17.224 mph (280.386 km/h). The car was the Napier-Campbell Blue Bird.
- On the 3rd of September 1935 he obtained his last land speed record on the Bonneville Salt Flats in Utah (US). He was the first person to drive more than 300 mph in a car, with an average of 301.337 mph (484.955 km/h) in two runs.
After having conquered land the next challenge for Campbell were the speed records on water. He developed his boat, called Bluebird, in Tilgate Lake, in Tilgate Park, Crawley, were he also tested the buoyancy of the boat.
He succeeded in braking 4 speed records on water, the highest speed being 141.740 mph (228.108 km/h) in the Bluebird K4 (the 19th of August 1939 in Coniston Water, UK).
Sir Malcolm Campbell died on the 31st of December 1948 after having several strokes. He was one of a few speed record holders on land who have died of natural causes.
Rolex and Sir Malcolm Campbell have always been close, as the following pictures illustrate.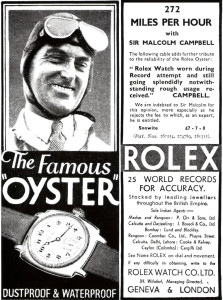 Pic.: An ad from 1933 featuring the Rolex Oyster that Campbell wore during his record attempt. In these days people were very proud paying for their Rolex themselves and Campbell didn't want to get any money from Rolex. Chuck Yeager (first man to fly above Mach 1 in 1947) had the same pride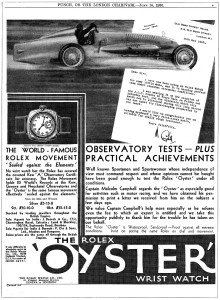 Pic.: Rolex advertisement from 1930. The picture dates back to 1927 when Campbell broke yet another land speed record on Pendine Sands. With his Bluebird Napier-Lion, 12 cilinders and 450 bhp, he drove 174.88 mph (279.81 km/h)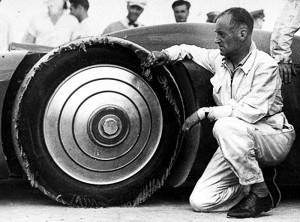 Pic.: Campbell at Daytona Beach clearly wearing his Rolex over his sleave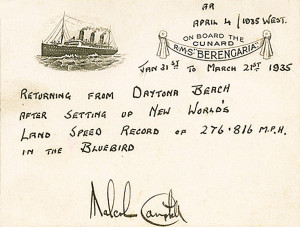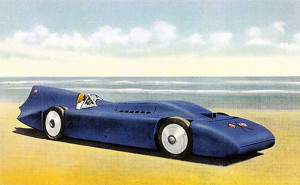 Jaap Bakker
July 21st
7:00