The CEO of Rolex: Gian Riccardo Marini
On May the 3th 2011 the Italian Gian Riccardo Marini was appointed worldwide CEO of Rolex. The former head of Rolex Italy replaced the long time sitting chief Bruno Meier.
In 1932 Rolex founder Hans Wilsdorf decided to distribute his watches in Italy through Italian dealer Franco Locatelli. In 1947 Locatelli started the business ROMALO together with Ronchi, the first Rolex dealer in Milan, and Renato Marini.
The sons of Renato Marini, Gian Riccardo and Giancarlo, became involved with the firm in the seventies. Soon Gian Riccardo became the commercial director of the business. In 1980 ROMALO started with it's first service centre which quickly became an important international institute for the training of Rolex dealers. It took until 1993 before ROMALO became a recognised part of Rolex Italy SpA.
Gian Riccardo Marini is responsible for the important brand combinations with sailing and golf and the creation of limited editions for these sports. When Marini talks about the uniqueness of a Rolex watch he uses this quote: "an object of passion and luxury, but also an important personal investment". The whole marketing has made Rolex to be one of the most solid luxury brands in the world.
After Marini became professionally involved with sailing the sport turned out to be love at first site for him. In an interview in Yacht Online he was asked if he could explain why luxury brands in general and watch manufacturers especially are more and more interested in sponsoring sailing. He gave the following answer:
"I can't really say why any other company is interested in the sector. But what is certain is that we were at the forefront in that regard: Rolex was the first watch brand in the world to launch an advertising campaign built around the sea and that was in 1926. Our watches were also the first official timepieces for the America's Cup. The power of teamwork, cutting-edge technologies, toughness, resistance, man as protagonist: they're all the values our company recognised in sailing and that's why we chose it as our preferred sponsorship sport. Now, of course, everyone has gotten in on the act with testimonials, etc. but maybe that's just because there's very little spirit of initiative when it comes to looking for new avenues of communication."
The latest big deal Marini closed is 10 year sponsor contract worth $ 350 million for being the worldwide partner and official timekeeper of the Formula 1. Important reason for closing the deal was the threath of competing watch brand Omega taking over the leading position. According to a report of Digital Luxury Group (DLG) in april 2013 the gap between Rolex and Omega has become smaller over the years, from 8,4% in 2009 to 2% in 2012.
The following picture shows Marini and Formula 1′s big boss Bernie Ecclestone.

To celebrate this deal Rolex produced a very interesting, strictly limited Daytona. The full name of this Rolex is:
Rolex Daytona FORMULA 1 Limited Edition BREVET+ PVD DLC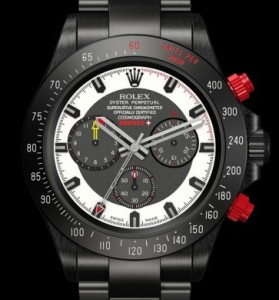 Brevet is a Swiss company that, according to their website, does the following:
'About BREVET +
BREVETPLUS specialises in customising and re-designing High End wristwatches at our customers request. BREVETPLUS is proud to be the first company to introduce ADLC ( AMPHOROUS DIAMOND LASER LIKE COATING ), DLC and PVD Coatings.
BREVETPLUS is an independent company providing customisation to original brands. We are not affiliated to any watch manufacturer and operate independently and in an unofficial capacity. BREVET + primarily focuses on achieving unique designs and concepts through its research and development. Our aim is to deliver an irreplaceable watch to our client.
Brevetplus are to watches what Zagato is to Cars.'
These are the most important facts about the Daytona BREVET+:
BLACK ROLEX DAYTONA Formula 1 Limited Edition
BREVET + Rolex FORMULA 1 DAYTONA STAINLESS STEEL & DLC
BREVET + Limited Edition – Customised Rolex Daytona Formula 1 Limited Edition
BREVETPLUS® BREVET PLUS®
ROLEX BREVET + OFFERS WORLD'S FIRST ADLC COATED ROLEX.
Launch Date: March 2013
THIS SPECIAL CUSTOMISED ROLEX IS AVAILABLE IN BOTH STAINLESS STEEL AND ALL BLACK DLC COATING.
BLACK AMPHOROUS Diamond Like Carbon matte coating
44 jewels movement
Sapphire crystal
Individual case back engraved (xx-13)
Water proof 100m/300ft
Comes with fitted box
2 years in house BREVET+ warranty for a mechanical failure.
LIMITED RUN of 13 Pieces ONLY
Price: 23.141 euro
This watch is also available in stainless steel at: £14750.
Watches are supplied with or without BREVETPLUS INSCRIPTION on the dials.
Jaap Bakker
August 8th
10:42