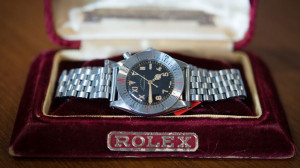 In 1937 Rolex introduced the ref 3346 'Zerographe' because they wanted to prove that they could make a chronograph with an in-house movement (up to then all chronographs had an outsourced movement).
a href="http://ww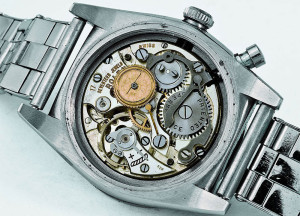 It was also the first Rolex ever made with a rotating bezel which had red and black markers and Arabic numerals.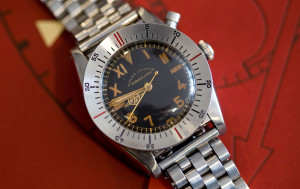 The manual wind movement had a handful of extra components to create a primitive 'fly-back' function. With this function the sweeping second hand moved continuously until you pushed the button at '2′. Then it stopped, returned directly to '12′ and started moving again. Big disadvantage was that you could not stop the second hand at the time elapsed because, if you pushed the button, the hand would return to '12′ again.
The ref 3346 'Zerograph' is possibly the rarest of all Rolex watches. Probably only twelve were ever made and only four are now accounted for.
The importance of the ref 3346 for Rolex history must not be underestimated. It was the first Rolex with an in-house chronograph movement, a rotating bezel and an Oyster case with a push button. It had it's infuence on Bubbleback Oysters of the early 20th century and later models like the Thunderbird, Turn-o-graph, Submariner and the Daytona.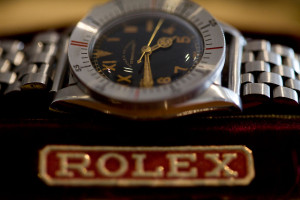 This is what Christie's had to say about the ref 3346 they had for sale:
Lot Description
Rolex. An extremely rare, historically important and very attractive stainless steel continuous flyback chronograph wristwatch with black lacquer California dial, revolving bezel, stainless steel bracelet and box
Signed Rolex Oyster, Zerographe, ref. 3346, case no. 146'276, circa 1937
Cal. 10 1/2"' mechanical movement, 17 jewels, Patented Super Balance, black lacquer dial, luminous Roman and Arabic numerals, luminous mercedes hands, central continous chronograph seconds hand, outer gilt railway minute divisions, tonneau-shaped water-resistant-type case, inclined rotating bezel calibrated for 60 units with Arabic five minute divisions and red baton quarters, screw down crown, screw back, single circular flyback chronograph button in the band for start/stop and return-to-zero, stainless steel bracelet and Rolex deployant clasp, case, dial and movement signed
32 mm. diam.
Lot Notes
With Rolex original fitted red felt presentation box with a red sticker attached to the front bearing the company's name. The box is lined on the inside with the imprint of a Rolex crown and the words "Waterproof Anti-Magnetic Unbreakable Glass" and is adorned with a gilt paper sticker with the red writing "The Highest Honours Ever Awarded By London, Paris and Geneva Observatories".
The Rolex Zerographe is so rare that even the most important key literature about Rolex does not fully explain the watch or provide complete information in regards to its genesis, numbers of watches produced and historical context. This is the regrettable consequence of two important facts: firstly, according to our knowledge and after extensive research, there is no period Rolex advertisement featuring this model. Secondly, there is no official information at Rolex available today in regards to reference 3346 Zerographe, so scholars and collectors find it nearly impossible to draw final conclusions.
The most important source of information however are the watches known to have survived and there are astonishing facts that came to light when speaking to their current owners: in fact, we were able to identify four watches of reference 3346 and their serial numbers are 146'270, 146'271, 146'275 and 146'276, the present watch. Whereas decades ago production numbers in the range of 50 were rumoured, we can nearly scientifically confirm that probably not even a fraction of such quantity was ever produced. In fact, simple probability calculation concludes that if four watches of an undetermined number ever produced have serial numbers falling in a sequence not further apart than 7, then the total produced can statistically be at best 12.
We understand today that the Zerographe reference 3346 was the first Oyster chronograph model produced by Rolex and furthermore the first to be powered by an in-house movement. What made the 10 1/2 lignes sweep seconds movement special was the addition of a return-to-zero or fly-back mechanism. The timing of a single event was possible by rotating the bezel to match the minute hand and returning the seconds hand to zero by means of the pusher. The elapsed time could then be measured on the bezel.
It is characterized by a continuous chronograph seconds hand, which will go around the dial without stopping. This is different from ordinary chronographs, which will have one or two buttons to affect stop, start and return-to-zero and where the chronograph hand will not run unless activated. Once the Zerographe is wound, the mechanism, including the central chronograph seconds hand, will run continuously. A strong push on the chronograph button will return the chronograph seconds hand to zero. However, in order to keep the chronograph seconds hand at zero the chronograph button must be kept pressed down. Once the pressure is released from the chronograph button, the central chronograph hand will continue its travel around the dial.
Considered a crossover between a Rolex bubble back watch and Rolex chronograph, Zerographe reference 3462 marks a turning point in Rolex history. In fact, it was this model which was the first one given a revolving bezel, later found on the "TURN-O-GRAPH" and "SUBMARINER" families (but only some 15 years later!). The company used the name Zerographe and Centregraph interchangeably for this type of single button flyback chronograph mechanism. However, the "crowned" watch manufacturer gave the Zerographe with reference 3346 a calibrated bezel, while the Centregraph with reference 3462 has a milled bezel with dot and baton markers.
Jaap Bakker