The son of a wealthy Viennese family, Andreas Nikolaus 'Niki' Lauda was born on February 22nd, 1949. The family's social status turned out to be both advantageous and disadvantageous to Niki. He found it very hard to adapt himself to the family's straightjacket, but when he found himself seriously involved in racing, the family capital came in useful. As a 12-year old boy he would park the cars of his parents' visitors and via Formule Vee and Formule 3, Niki ended up in Formule 2 in 1971. This against his father's will who wanted Niki to stay away from racing.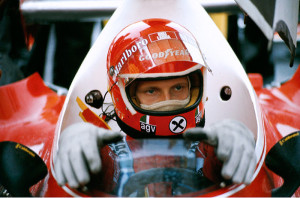 In the seasons of 1971 and 1972, with loads the family's money he managed to secure a seat in the March team March (F1/F2 combination) together with Ronnie Peterson. Later he bought a seat in the BRM team of Louis Stanley and then, all of a sudden, Niki's career took a wide scope. First, Stanley started to pay him for driving his car and subsequently Luca di Montezemolo of Ferrari called him, as he had become aware of Niki's great talent.
In 1974, his first year in the Ferrari team, he gained his first of the 26 F1 victories and he and his team mate Clay Regazzoni competed for the championship.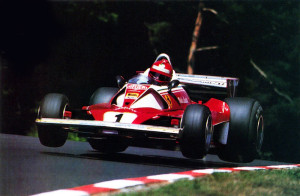 The Ferrari 312 T (Transversal) was greatly superior to the competition cars and Niki won 5 races in 1975. He became world champion, leaving number two far behind and he called '75 'the unbelievable year'.
Niki is most likely to be memorized by the championship he did not win.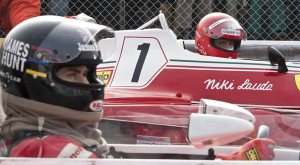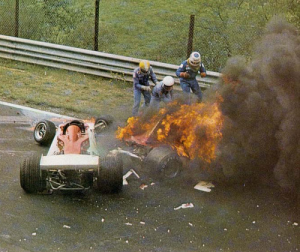 At the time of the Grand Prix of Germany on the Nurburgring in 1976, Niki led in the world championship significantly despite the fact that he had broken a few ribs while mowing on a tractor on his estate in Salzburg. In his McLaren, F1 playboy James Hunt, winner of the British GP in that year, lagged more than 20 points behind Niki.
After an early pit stop to change rain tyres for slicks, Niki's Ferrari suddenly flew to the right for inexplicable reasons, hitting the crashbarrier near Bergwerk. The car bounced back on the track, Brett Lunger was unable to avoid Niki's car which was set on fire.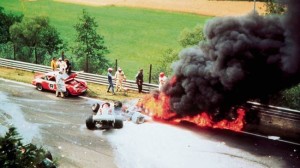 A couple of race-drivers including Brett Lunger, Guy Edwards and fearless Arturo Merzario managed to free Niki from the burning wreck. Although he was still able to stand after the accident, it soon became clear how seriously wounded he was. Hot, toxic gases had damaged his lungs and had entered his blood circulation. His helm had partly come loose, causing his head to be seriously burnt and he soon became comatose. For weeks on end his life was being feared for.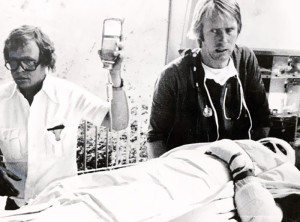 The unbelievable happened: six weeks after his accident Niki could again be found in the cockpit of his Ferrari. Later he confessed that he was almost paralysed with fright at that time. In the previous 6 weeks two GPs had taken place and Hunt had come closer, having gained a second victory in Zandvoort. Niki returned at the Monza GP and finished fourth admirably (3 points). Subsequently, Hunt won the two following GPs in North-America. In Canada, Niki was forced to give up due to suspension problems and on Watkins Glen he came in third. Before the final race on the Fuji circuit, Hunt only lagged 3 points behind Niki. The race started in heavy rain and after two laps Niki gave up, saying it was madness to race under those weather conditions. He may have been right, but his previous accident is very likely to have influenced this decision as well. During the race the weather conditions improved quickly and despite a late pit stop, Hunt finished third resulting in his becoming world champion, with 1 point ahead of Niki.
In 1977, Niki became world champion for the second time driving a Ferrari (thanks to only 3 victories), but at the Canada Grand Prix he suddenly terminated his collaboration with Ferrari. In '78/'79, he drove for Brabham and then announced the end of his F1 career.
However, in 1982 he returned, for financial reasons he said, (in the intervening year he had started his own airplane company Lauda Air, which was heavy financial burden to him). He entered a contract (the agreement cost him a lot of money, but involved only 4 races) with Ron Dennis of McLaren. His teammate was John Watson.
In 1984, Niki became the world champion for the third time, this time with the McLaren TAG Turbo, with 1/2 point (the Monaco GP was cancelled due to which the points had been halved) ahead of his former teammate Alain Prost.
A short overview of Niki's record in F1:
- Races: 171
- Victories: 26
- Pole positions: 24
- Podiums: 54
- Fastest racing laps: 25
- Number of laps having the lead: 1620
- World champion: 1975 and 1977 (Ferrari), 1984 (McLaren)
'This year (1974) I wasn't ready to become world champion. If I have a good season next year, I shall know the reason for it all: to make me tough and ready for great things'
Lauda
'What struck me was how "clever" his best performances were. He often kept himself back, in practice, and awaited the right moment, and then really went flat out. He always thought more deeply than the others, and he also gave himself endless trouble preparing the race'
Fritz Indra, Ferrari mechanic
'My PR value alone is worth that much. You'll be paying only one dollar for my driving ability, all the rest is for my personality'
Lauda, during the negotiations with McLaren and Marlboro to return in F1
Niki Lauda has always been a loyal wearer of Rolex watches.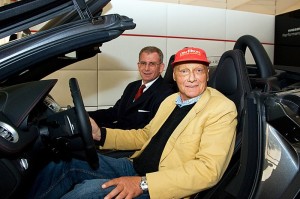 Pic.: Niki with his Rolex Daytona 'Big Red Panda'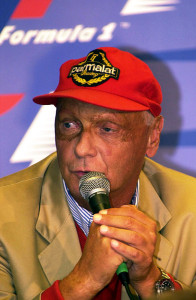 Pic.: Niki with his 'Pepsi' Rolex GMT-Master
Jaap Bakker