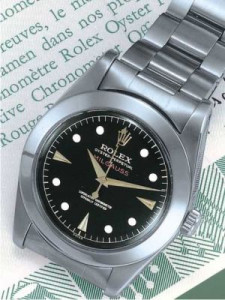 Pic.: Rolex Milgauss ref 6541
In 1958 Rolex started with the production of the Milgauss. Most important feature of this watch was that it could withstand magnetic radiation. Certain groups of professionals who had to deal with this radiation benefitted from this watch that kept it's accuracy.
Most important facts of the ref 6541 were:
- case diameter: 38 mm
- caliber 1066M
- bracelet: Oyster ref 6636
- material: stainless steel
- crown: Oyster twinlock ref 21
- hands: Dauphine
- at 3, 6 and 9 o'clock steel triangles with facet
- seconds hand: lightning bolt
- anti-magnetic: up to 1000 Gauss
Ref 6541 was also produced with a black, rotating bezel divided in 60 units.
From the 1960s until the 1980s Rolex produced the Milgauss ref 1019, the successor of the ref 6541.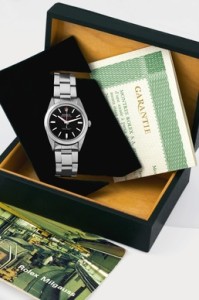 Pic.: Rolex Milgauss ref. 1019
The most important features of the ref 1019 were:
- case diameter: 37 mm
-       kaliber 1580 (rhodium-plated, 26 jewels, straight-line lever escapement, monometallic balance adjusted to 5 positions and temperature, shock absorber, white metal Breguet balance spring, Microstella regulating screws)
-       bracelet: Oyster
-       material: stainless steel
-       soft iron gilt metal anti-magnetic protecting cap forming a Faraday cage
-       dial: black over soft iron dial with luminous steel baton indexes, outer minute/seconds divisions, 'milgauss' in red
Rolex also made a special version of the ref 1019 for the CERN in Geneva. This watch had a Rolex USA jubilee bracelet and engraved in the inner site of the caseback was III.67, meaning that it was made in the third quarter of 1967.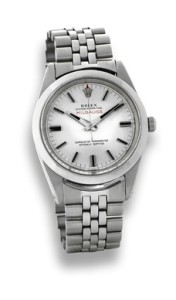 Pic.: Rolex Milgauss CERN ref. 1019
The initial tragedy of this Rolex model with all it's interesting specifications was that it turned out to be practically unsellable in the 1960s and 1970s. In the Netherlands in the 70s they were offered for 1600 to 1900 guilders but even with this reduction in price they still kept collecting dust in the safes of the dealers.
In 2013 the Milgauss turns out to be in a totally different ballpark! Because they were so hard to sell the Milgauss now is a very rare watch and everybody understands what this does to the price. In a recent search I found one for $ 29.000 and in Holland expect to pay at least 20.000 Euros for a Milgauss.
There is a whole bunch of people now that lie awake at night wondering why they didn't buy a couple of Milgauss's in the good old days:
a missed opportunity!
With thanks to Wilfred Muhring, Shop Director Schaap en Citroen Utrecht
Jaap Bakker